3D Printing Slicer Software - How to Choose the Best
· 15 min read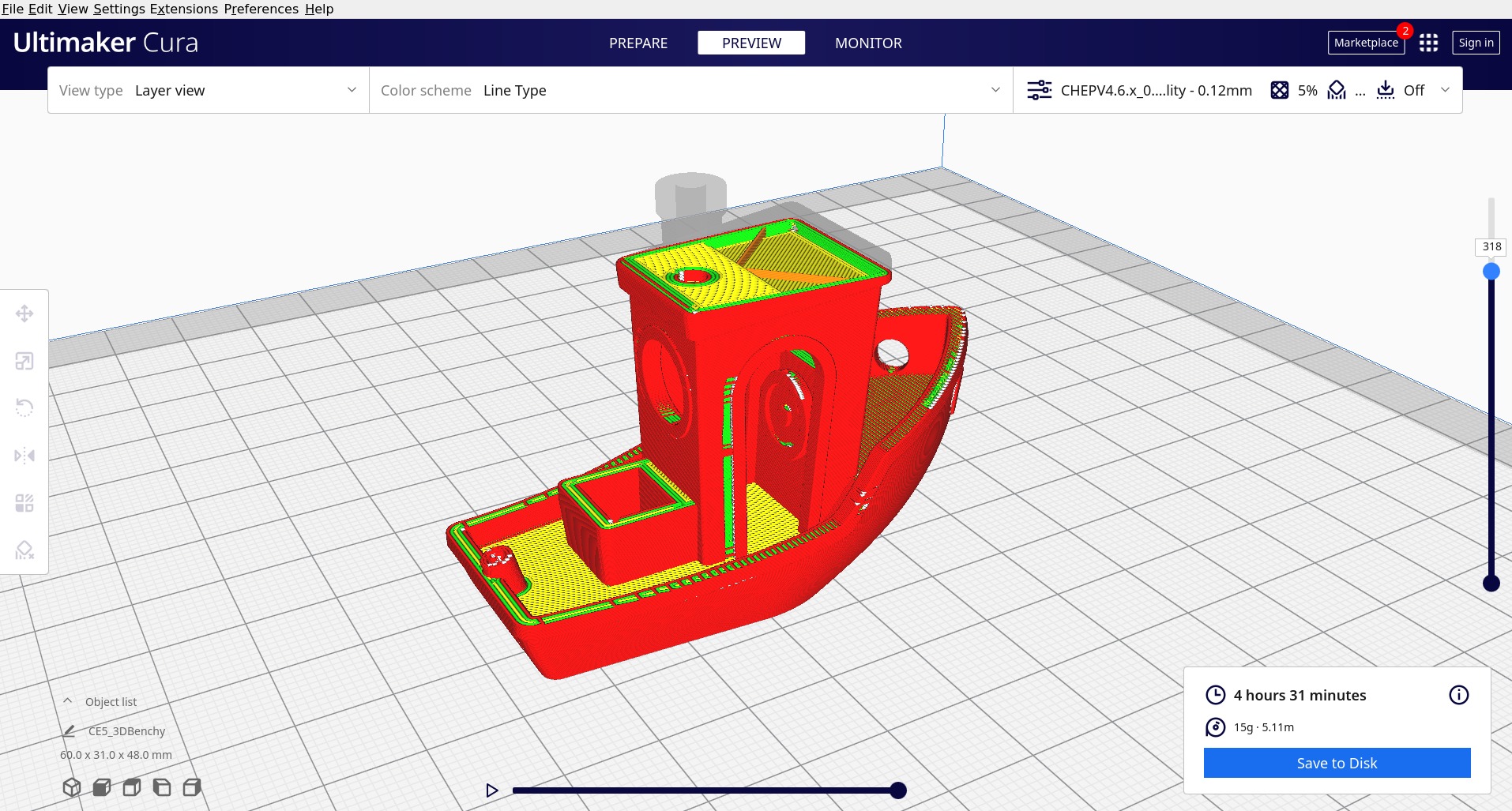 Picture courtesy : Keanu Dölle via Wikimedia Commons
A 3D printing slicer is undoubtedly one of the most important parts of the whole process of 3D printing. It takes your digital 3D models and gets them ready for the last step of printing. It is the slicer that affects (to an extent) how well your components print, how strong they are, and how they look.
With so many 3D printing slicers to choose from, you're virtually spoiled for choice. Knowing which one to use and which one is better for your 3D projects may have a big effect on how your 3D-printed items turn out.
In this post, we've done the research for you and put together a full guide to the finest 3D printer slicer software on the market. We'll look at their characteristics, strengths, and flaws to see what makes them different.
Read on to find out all you need to know about 3D printing slicers and select the appropriate one for you!
3D Printing with Slicers​

Picture Courtesy: Kholoudabdolqader via Wikimedia Commons
Slicers take your digital CAD file and turn it into a language that your 3D printer can comprehend. The STL file format is what goes into the slicer, and once everything is cut up, you receive a Gcode file that is ready to print.
The Gcode file has all of the information that the 3D printer needs to make your pieces. The slicer is used to set the temperature, speed, component density (infill), retraction parameters, and support structures.
The capabilities of the slicer can have a significant impact on the quality of your components and the items you can 3D print. A competent slicer can make the process of 3D printing very smooth and provide you features that increase the quality of your prints. On the other hand, if you have to use a bad slicer, it might impair your 3D printing results no matter how good your machine is.
Because of this, it's important to find a slicer that is straightforward to use, works well with your machine, and has enough functionality to handle all of your 3D printing tasks.
Cura, PrusaSlicer, and SuperSlicer are three well-known pieces of free software for slicing. These slicers are free to use, based on open-source software, and work with a broad range of 3D printers. Simplify 3D and Netfabb, on the other hand, are professional-grade slicers that come at premium pricing.
In the following sections, we'll go over some of the best slicers for FDM 3D printing and understand their features. The goal here is to help you choose a slicer that aligns with your workflow and best suits your needs.
Best 3D Printing Slicers​
Ultimaker Cura​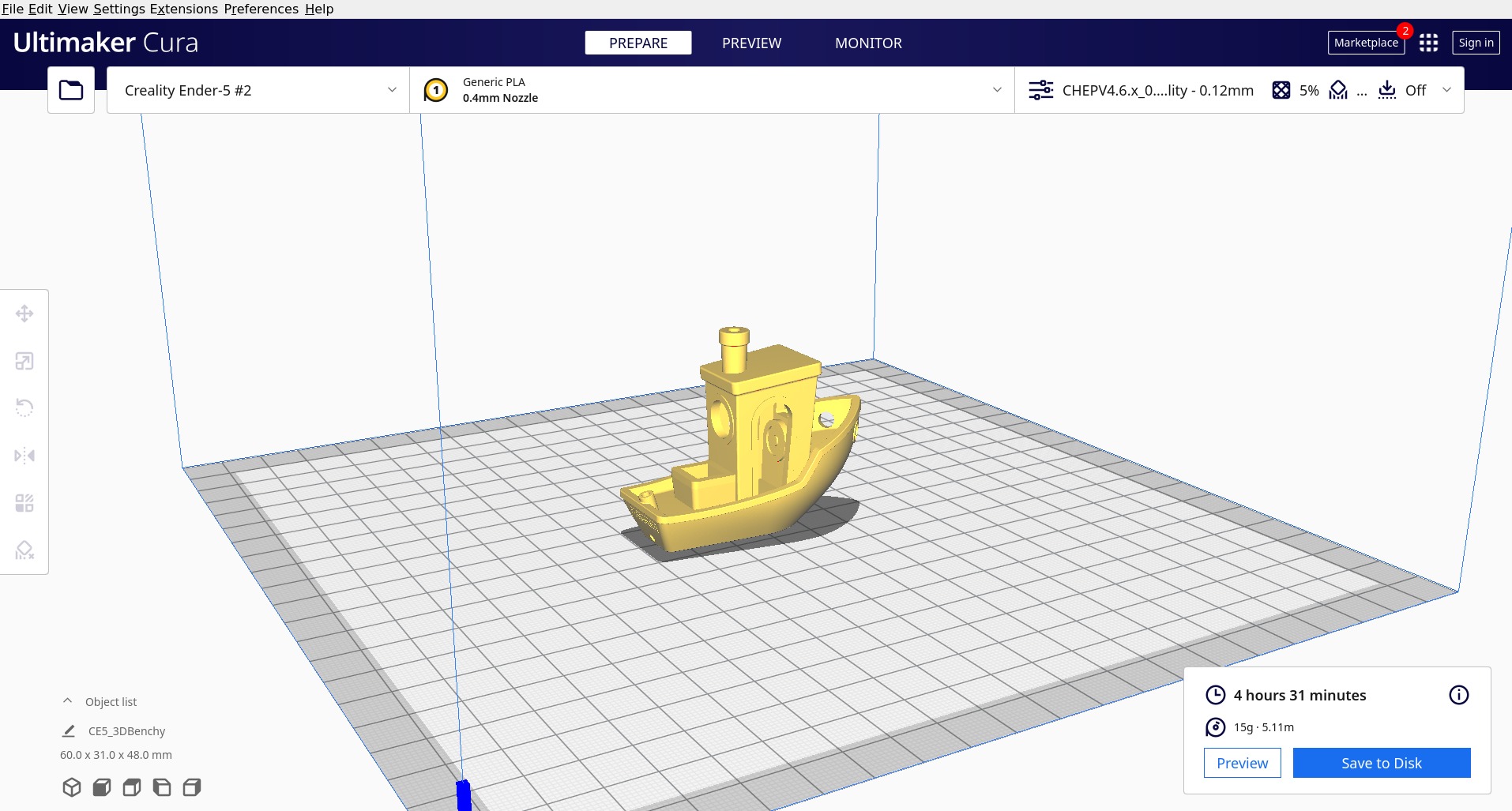 Picture courtesy : Keanu Dölle via Wikimedia Commons
The Cura slicing program is one of the most popular slicers for 3D printing. It was created by David Bramm in 2014, and the Ultimaker team later bought it and kept developing it.
Cura is completely free to use, has an open-source code, and has a large user community that works to make it better. It's also likely to be the first slicer you use if you're new to 3D printing.
Cura lets you 3D print your items in three different ways. If you are a newbie, you may rapidly slice your models by choosing the Basic mode. This mode lets you change only the most important variables and makes slicing easier.
On the other hand, in the expert and advanced modes, you can modify a lot of small details about your 3D-printed item. In these modes, you can choose from more than 400 distinct options for 3D printing and tweak each one to your liking.
With Cura, you can choose from a number of profiles for your printer and filament that make setup quick and straightforward. These profiles are fine-tuned to make sure that you get the greatest quality printing possible.
Cura is more than just a slicer; it also lets you add different plugins that add new features. With these plugins, you may use Cura with your modeling program and import models straight from 3D printing libraries like Thingiverse.
Considering its wide array of features, Cura should cover almost all of your 3D printing needs, regardless of your printing experience. It's equally great for newbies and seasoned professionals.
Suitable For: Beginners, Hobbyists, and Professional users.
Where do I find it? : Ultimaker Website
Price: Free
OS: Windows, Mac, Linux
PrusaSlicer​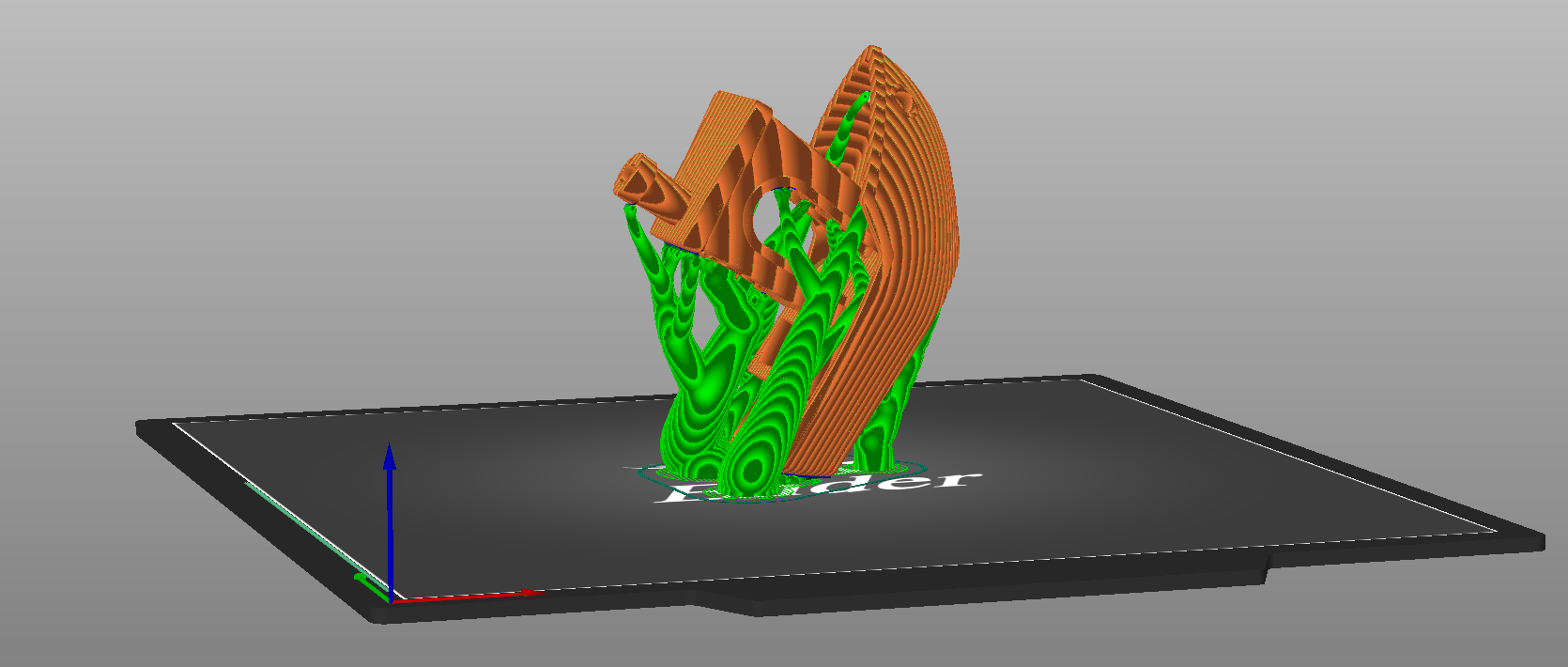 PrusaSlicer is built on top of the original program for slicing, Slic3r. It works well with Prusa 3D printers and is one of the few slicers that works with both FDM and Resin 3D printers.
PrusaSlicer is noted for its speed, features, quick updates, and open-source community, which has maintained it at the top of everyone's list. You have beginner- and expert-friendly settings in the slicer that are comparable to those in Cura.
The slicer can easily handle STL, 3MF, OBJ, AMF, and various file types. PrusaSlicer makes it easy to change support structures, add and delete models, and build printer profiles that you can use to swiftly slice your models.
The latest version of PrusaSlicer 2.6, has several great new features, such as organic supports, a measuring tool, embossing capabilities, and a cutting tool that has been greatly improved. The open-source community is a big reason why these improvements and new features are feasible.
It's quick, easy to use, and can fit right into your existing 3D printing workflow. There are several instructions, support materials, tutorials, and videos about the PrusaSlicer that cover practically every part of it. Even if you're a newbie, you shouldn't have any trouble using its various functions.
Suitable For: Prusa owners, Resin printers, hobbyists, and users who prefer a speedy workflow.
Where do I find it? : Prusa 3D website
Price: Free
OS: Windows, Mac, Linux
Simplify 3D​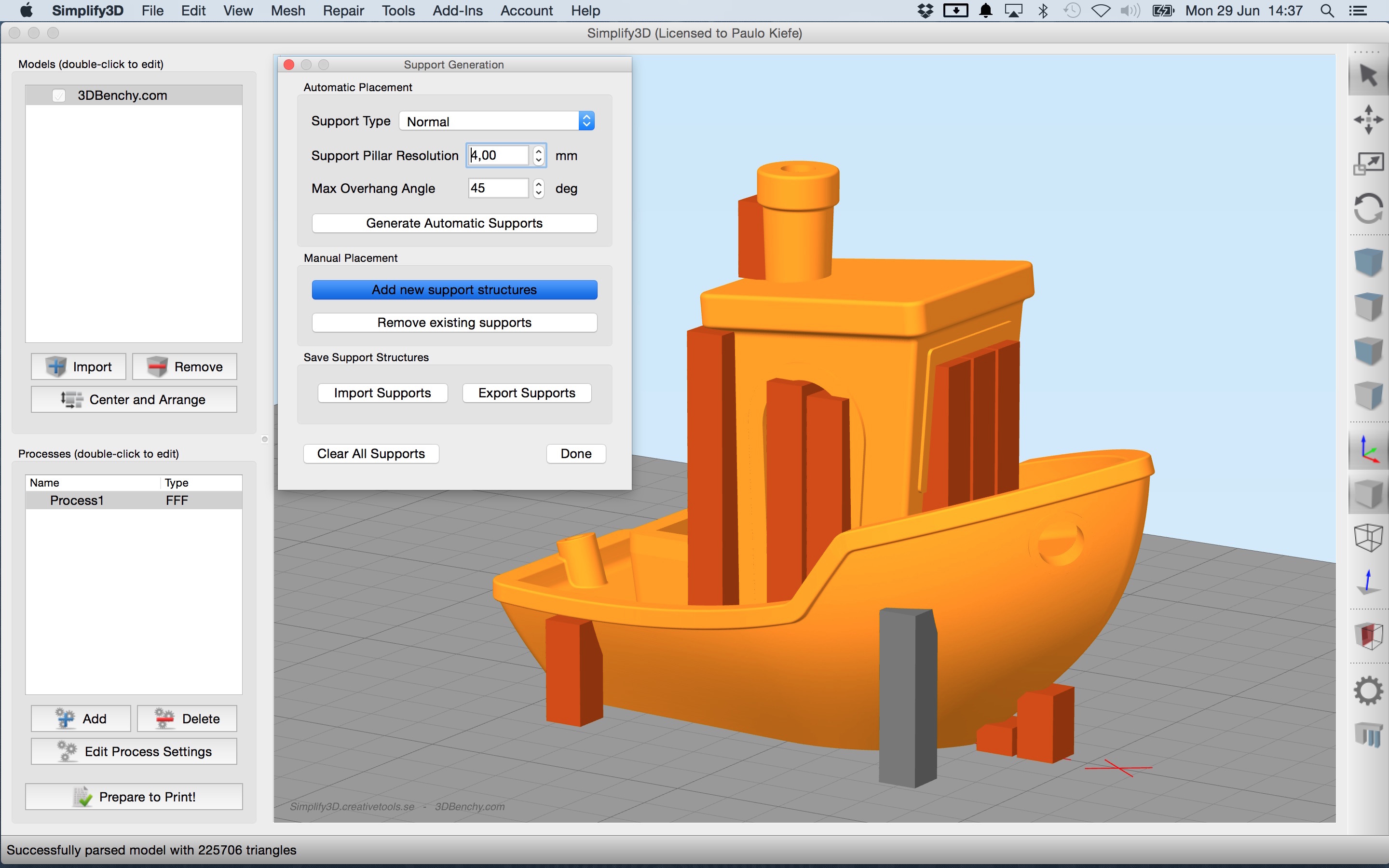 Picture Courtesy: Creative Tools via Flickr
Simplify3D is a premium slicing program that is popular among professional users. It has a basic user interface and an easy workflow that ties together a variety of functions.
Simplify3D streamlines the process of loading and slicing your model. Over 600 printer profiles are already in the program and have been fine-tuned to provide the best results. It also lets you fix your CAD models and is quite excellent at finding holes, thin walls, and parts that cross one other.
Several users have appreciated Simplify 3Ds support structures. You have a lot of ways to change how the supports work to suit your needs. In the most recent version to Simplify 3D, the team has made the current supports better and introduced the ability to change the geometry of support structures.
But $200 is much too costly, especially when there is so much free stuff out there. The existing free slicing program includes most of Simplify 3D's functionality and has earned a large following in recent years.
Having said that, Simplify 3D remains a solid alternative for expert users looking for a simple yet feature-loaded slicer. You receive priority assistance, improved toolpaths, and full control over your 3D printing process. It might be a good investment for someone who utilizes 3D printers for their business.
Suitable For: Professionals, industries, schools, and small businesses.
Where do I find it? : Simplify3D
Price: $199.00/year
OS: Windows, Mac, Linux
Repetier Software​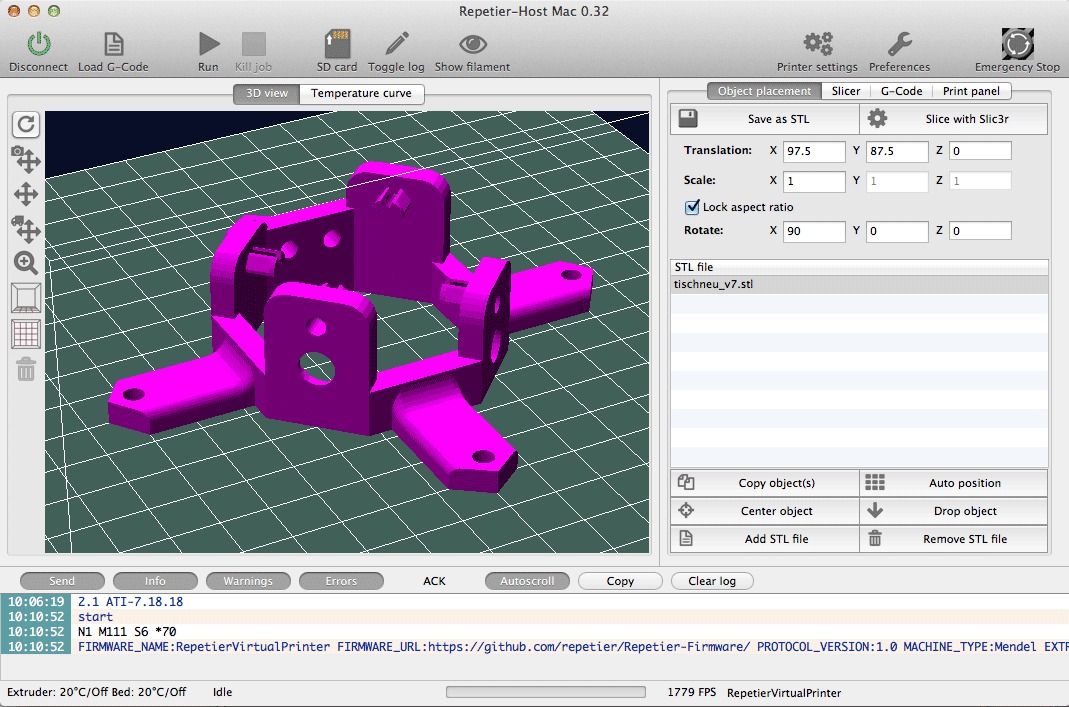 Picture Courtesy: Repetier Host
With the Repetier software package, you can slice your components, keep an eye on your prints, and manage your 3D printer all from a single program. It is one of the early pieces of slicing software made for general-purpose 3D printing.
The Repetier Host works with four distinct slicing engines to let you print parts that are of excellent quality. Cura, Slic3r, Slic3r Prusa Edition, and Skeinforge are all slicer engines that you can use to slice the parts and set them up the way you want. This provides you the freedom to choose the optimum support structures, tool paths, infill, and other settings for your model.
One feature that makes Repetier stand out is that it can control up to 16 extruders with different types of filament. Before you print the models, you can see what they will look like with different colors of filament. It allows users a lot of freedom who often print items made of more than one material.
You may also connect the host software to the Repetier Server and use your printers from anywhere by accessing them through the server. As long as you are connected to the internet, you can hook up a webcam and do remote 3D printing from anywhere. This frees you from the confines of your workspace and significantly increases your printing capabilities.
It's one of those slicers that you can make as simple and versatile as you like. You may use it with the default settings and receive prints, or you can play about with it and set it up so that it works precisely the way you want it to. This makes it a great choice for users of all levels, including beginners, hobbyists, professionals, and even printer manufacturers.
Suitable For: Intermediate users, tinkerers, hobbyists, and custom 3D printer manufacturers
Where do I find it? : Repetier
Price: Free, Paid for Repetier Server
OS: Windows, Mac, Linux
SuperSlicer​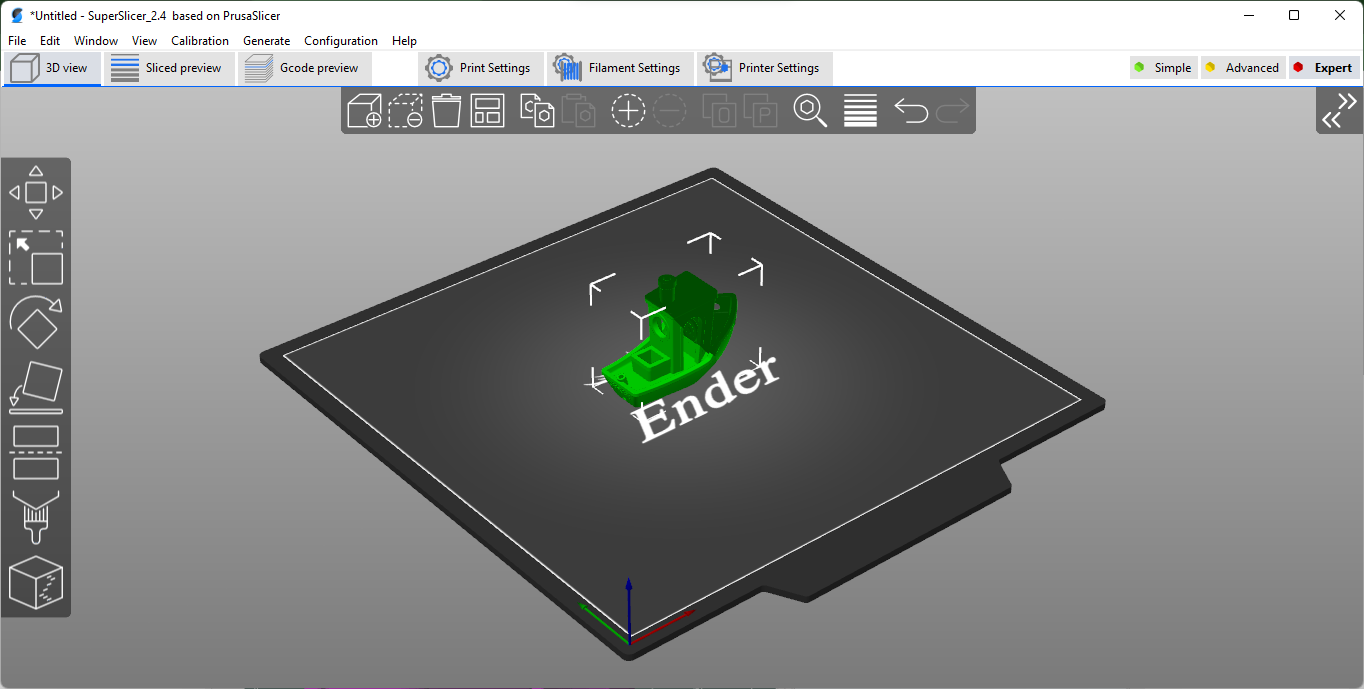 SuperSlicer is a fork of Prusa Slicer, which is a fork of the original Slic3r program. It's not that different from PrusaSlicer, although it does have some great enhancements over it.
A GitHub user named SuperMerill made it as a personal project at first. Instead of waiting for the Prusa team to add it to the PrusaSlicer, they simply chose to develop their own software branch with the functionality they needed.
The custom-made calibration tests are one of the most interesting things about the SuperSlicer. It has built-in versions of several of the most used calibration models. No need to scour the web for printer calibration models; just use the ones provided here.
You may modify the size of the holes in your model with Super Slicer so that they print out correctly. With the brim function, you may add ears to your model to reduce the amount of corner lifting and warping.
In addition to these characteristics, it has all of the same functions as the Slic3r or the PrusaSlicer program. It adds to these slicers and doesn't necessarily take their place.
When it comes to slicing programs, SuperSlicer is a refreshing update. It's one of the programs you should try at least once, and you could end up loving it.
Suitable For: Intermediate users, tinkerers, and hobbyists
Where do I find it? : SuperSlicer GitHub
Price: Free
OS: Windows, Mac, Linux
ideaMaker​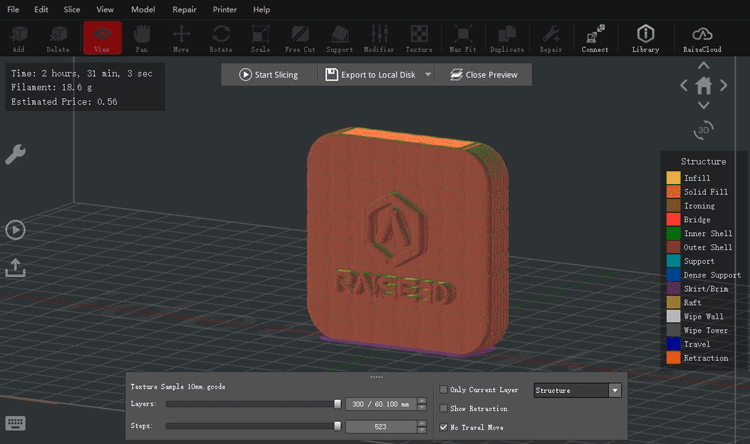 Picture Courtesy: ideaMaker
Raise 3D's ideaMaker is one of the few professional software programs that are both simple to use and have a plethora of strong functionality.
The texturing function sticks out among the other things it can do. The slicing program makes it easy to make textures and add them to your 3D CAD models. You can choose from a wide range of textures in the library of the idea maker, or you can use your own images. It provides you a little more room to be creative and lets you make models that are your own.
The support structures are also quite adaptable, and there are many ways to tweak them. The automated production of supports works quite well for all forms of overhangs. You may still manually adjust the supports to suit your needs. This, too, works wonderfully, and with a little tweaking, you can save a significant amount of print time and material.
Adaptive layer height, sequential printing, automated separation of components and assemblies, and support for more than one language are some of the extra features that make ideaMaker slicing software quite well-rounded. It has a clean user interface, and you can 3D print your creations with only a few clicks.
The only problem we could identify with this slicer is that there isn't much help from the community. You'll have to rely on Raise 3D's guidelines and tutorials (of which there are still plenty) and any future upgrades.
In general, the ideaMaker is one of the most flexible slicers you can use for slicing your models effortlessly. If you prefer to play with model settings and want a little more freedom to be creative, the ideaMaker is a fantastic choice.
Suitable For: Advanced users, Professionals, Small-businesses
Where do I find it? : ideaMaker
Price: Free
OS: Windows, Mac, Linux
MatterControl​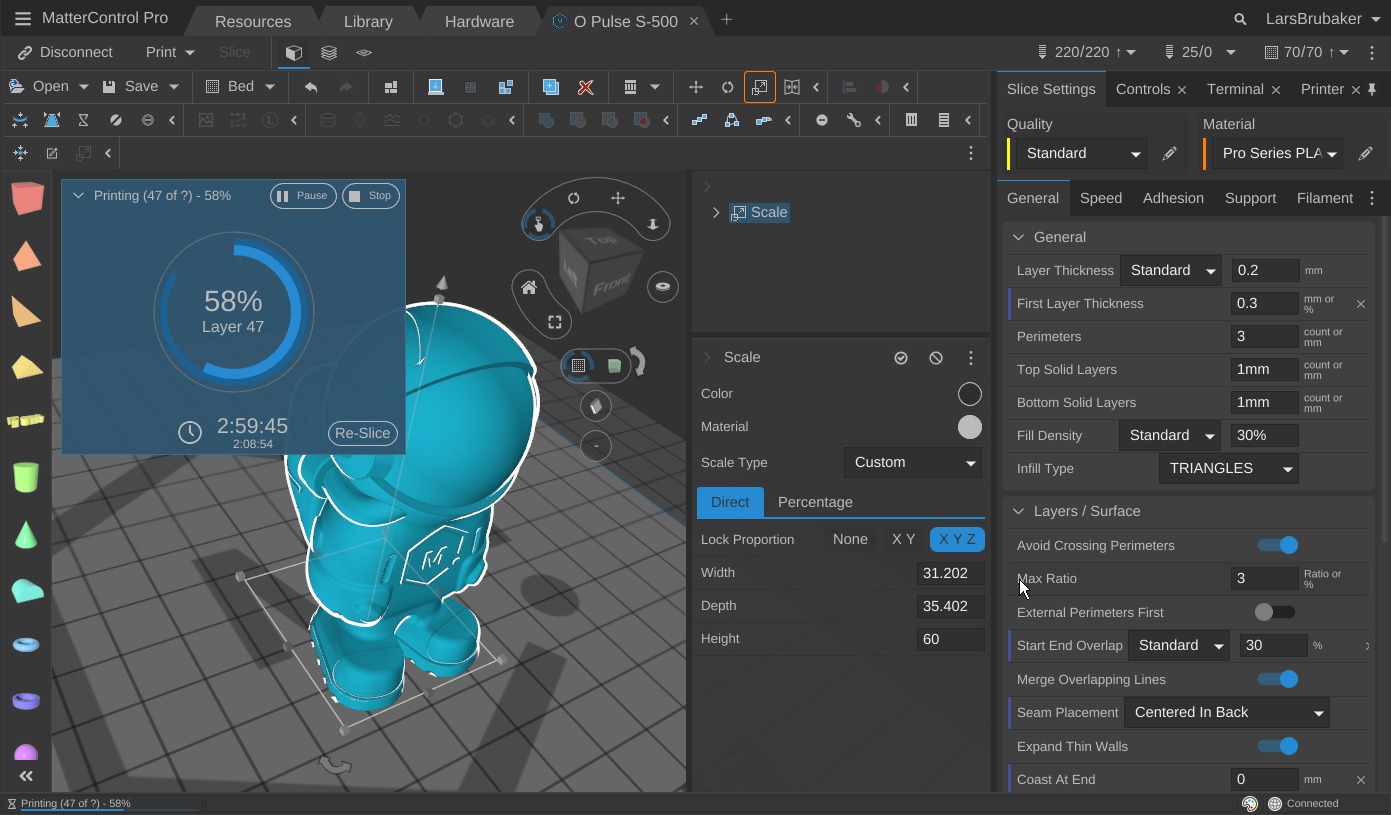 Picture Courtesy: MatterControl GitHub
MatterControl is an all-in-one 3D printing design, slicing, and control software. It has a library of designs, basic and complex slicing operations, and a user interface that lets you see and manage your printer from your laptop.
The design library is a nice extra feature. It offers you access to design applications, a cloud library, and some basic design capabilities that you may use to make new 3D models. There are models for calibrating your 3D printing settings and sophisticated models like gears and threads that let you swiftly 3D print complicated items.
The slicing part is also quite simple. There are already a lot of 3D printer profiles in the program, so you can start printing your components right now. The interface, on the other hand, might be hard to understand for new users, and there aren't many options for fine-tuning your models. Instead, it's made to make slicing your parts quick and straightforward.
You can use MatterControl to its fullest extent, but only if you upgrade to the Pro version. You gain access to a lot more designs, options for cutting, and ways to operate your printer. You can access your machine from afar, keep an eye on how it's printing, and store your ideas in the cloud. This does cost approximately $155 each year, though.
Overall, it's a great software for semi-professionals and amateurs that require software that can handle both designing and slicing in one window. Matter control might not be worth this price for many first-time users, but if you're a pro, the design tools can be really helpful.
Suitable For: Hobbyists, designers, professionals
Where do I find it? : Matterhackers website
Price: Free, and Pro version for $155/yr
OS: Windows, Mac, Linux
Kiri: Moto​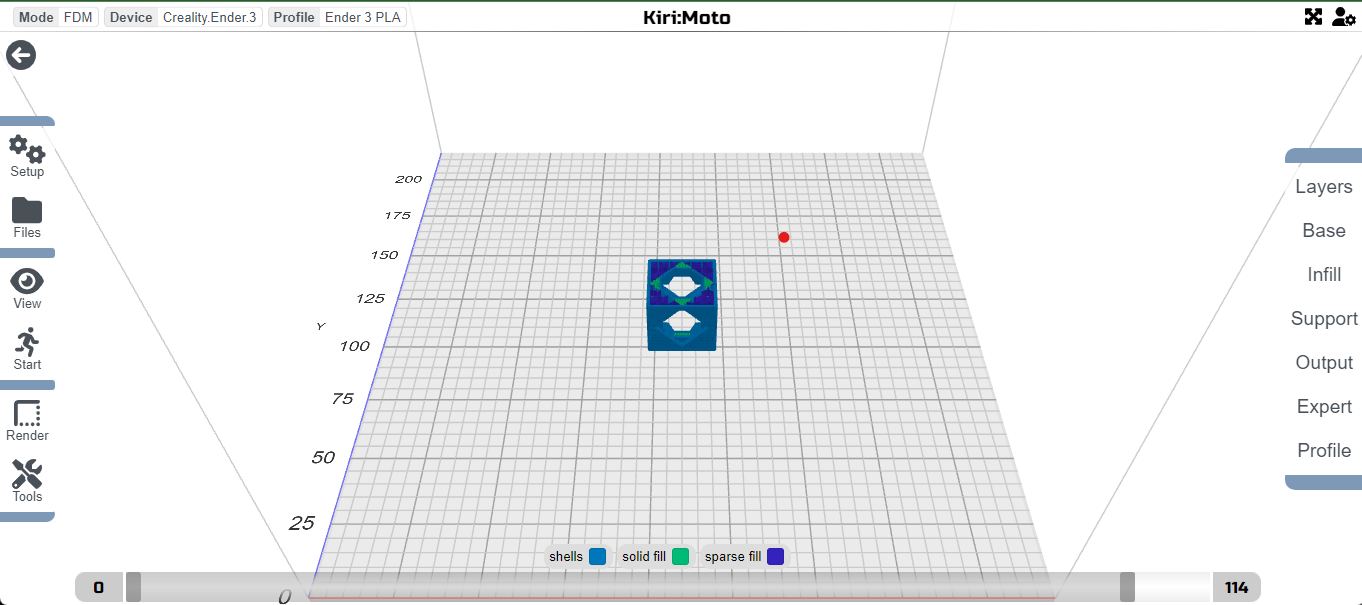 Kiri Moto is a 3D printing slicer that runs in a browser and can be used on any operating system. Plus, it's software that enables you to operate not only plastic 3D printers but also resin printers, CNC cutters, and laser equipment. It's almost a whole DIY control software package that you can get for free.
It's a very simple program that offers you access to all the most important tools you need to slice your model and get it ready to print. When you launch the window, the default setting is a slicer for 3D printing. There are already numerous profiles for some of the most popular 3D printers, which make it easy to set up your print settings.
As for the print parameters, the Kiri slicer has basic settings for slicing your models. It's like using the basic slicing mode in the Cura program. The same is true for SLA, CNC, and laser machines. You have access to all of the basic functionalities you need to start working on your models.
Professionals, on the other hand, will miss the extra controls that come with alternative slicing software. There are no customizable supports, adaptive layer height, organic supports, or a number of other features that might be useful for some models.
The Kiri slicer is a great illustration of how to keep things simple yet perfect. It makes it easy to slice and dice your CAD drawings and get them ready for 3D printing and other ways of making things. It might be a good idea to give this one a try and see whether it works for your production setup.
Suitable For: Beginners, Hobbyists, DIY professionals
Where do I find it? : Kiri moto website
Price: Free
OS: Any
Remote 3D Printing​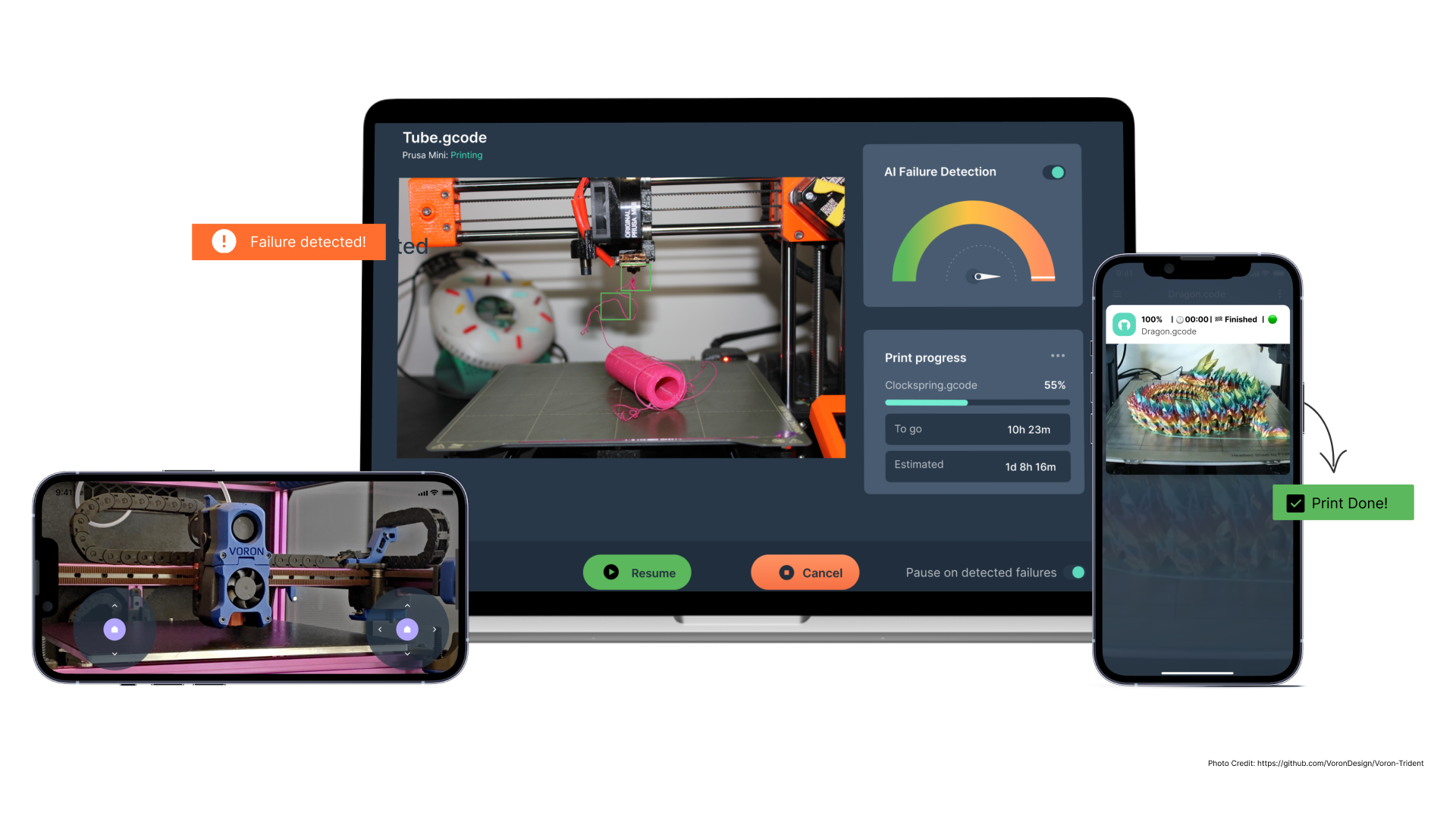 Cura and PrusaSlicer are two of the most popular 3D printing programs that both beginners and experts utilize. When you add the ability to print from a remote location to the slicers, you make them more than just desktop applications.
When used alone, these programs are mostly used to slice CAD models. But when you add Klipper firmware to them, you can really see what remote 3D printing can do. You can refer to our tutorials on utilizing Cura and PrusaSlicer with Klipper. With these guidelines, you can set up your 3D printer to print wirelessly.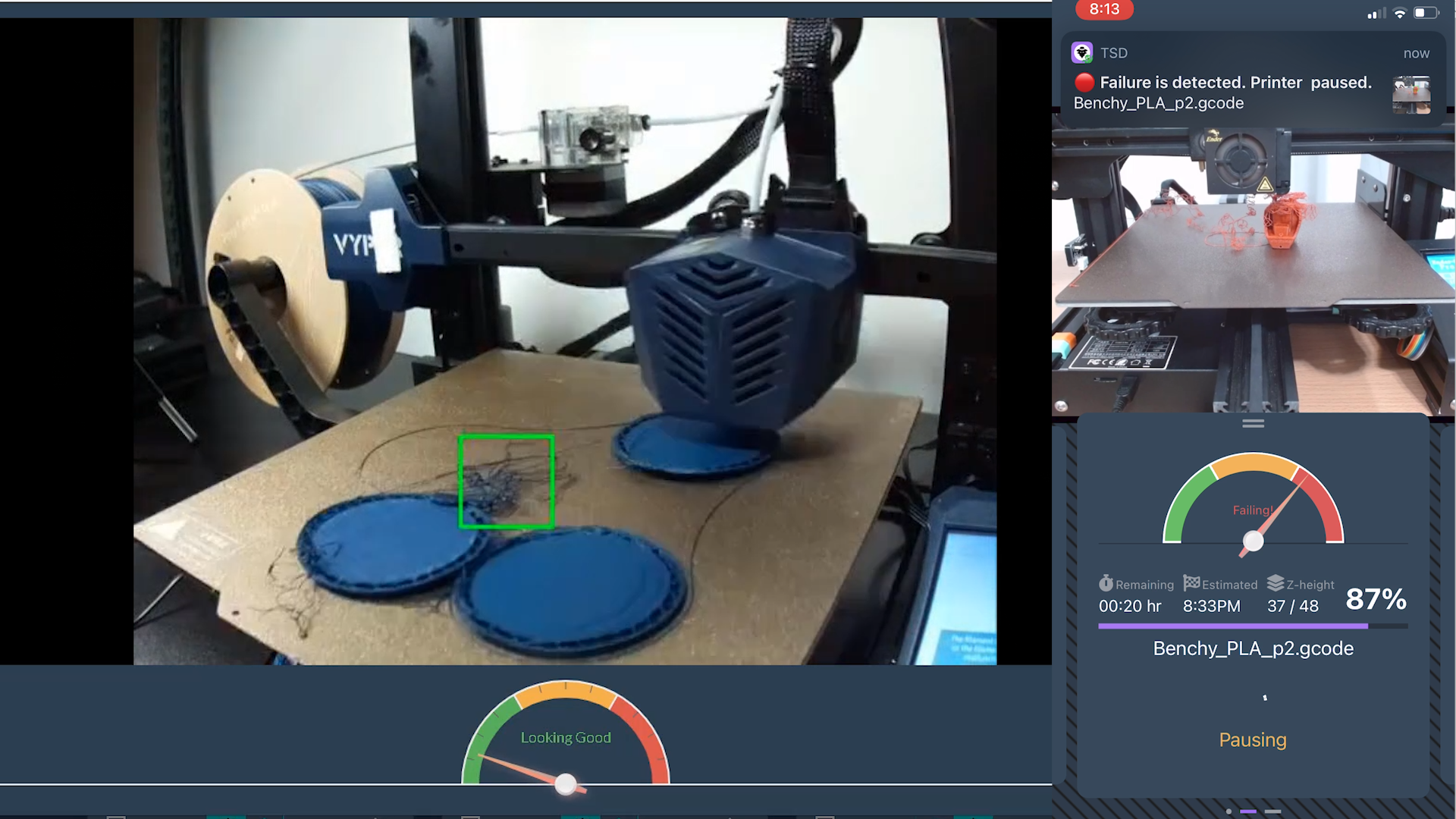 If you want to make remote printing even more useful, you should try out our Obico software. Obico, formerly known as the spaghetti detective, has advanced past the point of just identifying instances of failure. You can keep an eye on and control your printers from anywhere in the globe with Obico. You may use it on your phone or laptop, and if you want, you can even set it up on your own server.
The AI failure detection is still at the same high standard you've come to expect, but there's much more data now, and the failure identification algorithm has been vastly enhanced. You can even store your G code files and receive notifications about your printing progress, and record time lapses all from a single piece of software.
You may use Octoprint or Klipper firmware to set up Obico. The method of installing it is quite easy. If you ever need assistance, there is a helpful community on Discord that you can join.
Help us out by giving Obico a star on GitHub and writing a review on the iOS App Store or Google Play if you've used our mobile app.