Raspberry Pi Alternative for OctoPrint
· 5 min read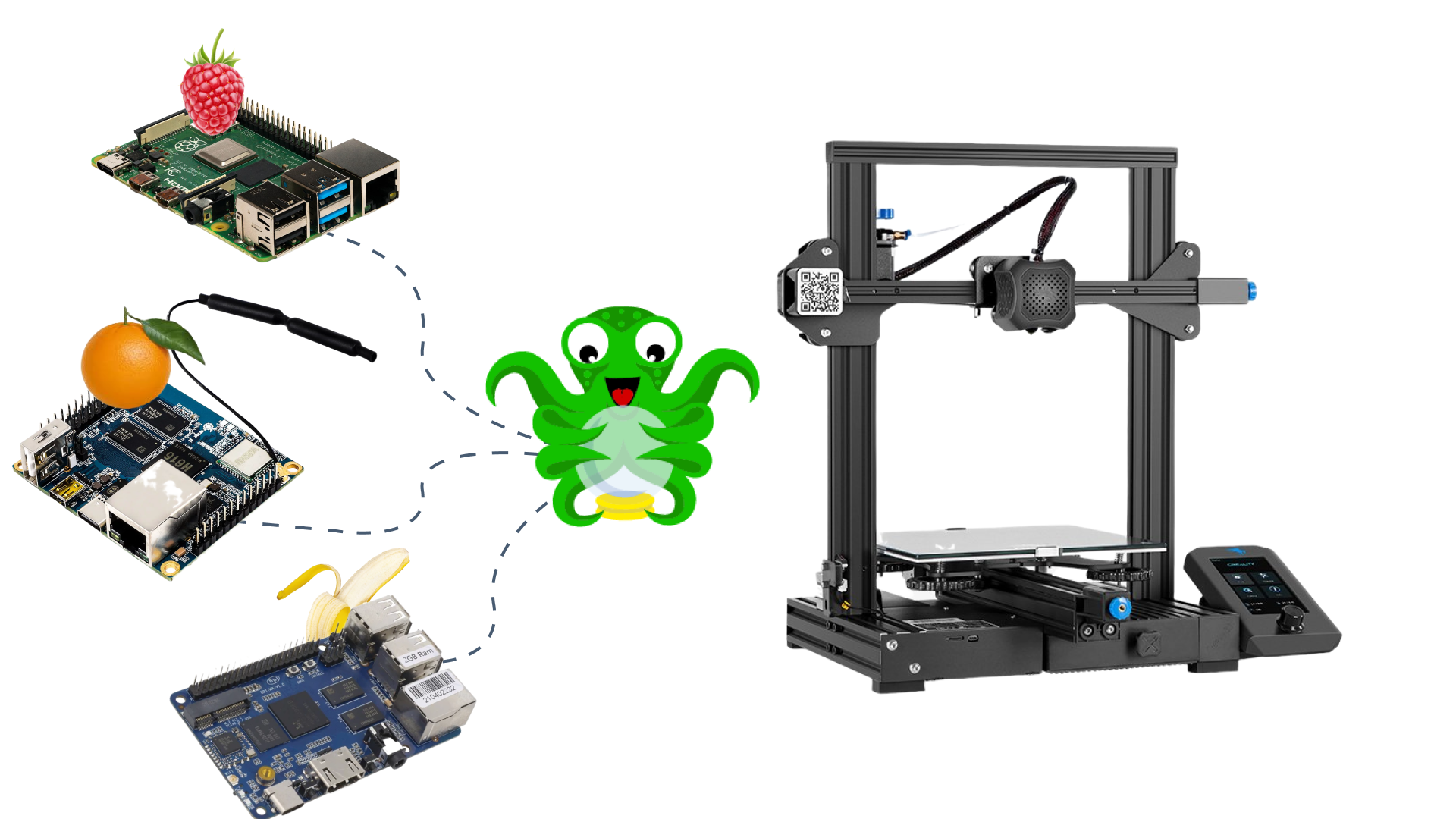 What are we doing?​
We are planning to develop an easy to install, no compromise raspberry pi alternative for OctoPrint. We will bulk order an alternative single board computer. It will be equivalent to or better than a raspberry pi 3B+ 1GB. It will be guaranteed to let you easily install OctoPrint without any additional configuration. Aside from the fact that raspberry pi's are very hard to find, this alternative provides all of the following:
Install OctoPrint through a streamlined process similary to the OctoPi image developed for Raspberry pi.
Guaranteed to work with OctoPrint
Monitor and control 3D printer using a camera that is guaranteed to work (if purchasing kit)
Get customer support from the Obico team
Get on the list so we can let you know when it's time to place the order.
How much will it cost?​
We are planning to offer two options:
Board-only :​
$35 - $40 + Shipping
The board will include the board and the easily installable package to install OctoPrint. Customer support from the Obico team is also included. We are currently looking at the Orange Pi Zero 2 but this could change.
Kit :​
$80 - $95 + Shipping
The kit will include the board (currently looking at Orange Pi Zero 2) , power cable , case and a camera guaranteed to work with OctoPrint out of the box. The pre-built OctoPrint package for easy installation will also be included. Customer support from the Obico team is also included.
Take our short survey to get on the list to purchase a board or kit for OctoPrint. As soon as we have over 200 people interested, we will reach out to collect your payment so we can place the order.
When will I get it?​
We will place the order as soon as we have enough interest to place a bulk order (approximately 200 units to share this with your friends who might be interested too). Once the order is placed, we anticipate being able to receive the boards within approximately 3-4 weeks, and we anticipate we will be able to ship them out to you within the next week or two.
Why is the Obico team doing this?​
The purpose of this project is to establish a no compromise Raspberry Pi alternative that allows for easy OctoPrint Installation. Traditionally, OctoPi, a Raspbian based SD card image for the raspberry pi that includes everything needed to run OctoPrint.
If you've tried to buy a raspberry pi in the past year, you know that buying one at msrp is not at all easy. You may be able to get lucky through the Raspberry Pi locator, but even this is not at all guaranteed.
There are a number of options for using OctoPrint without a raspberry pi, including using an android device with Octo4A, installing on a Mac or Windows device, among other non raspberry pi single board computers. All of these options work, but they all come with their own set of unique disadvantages and increases the level of difficulty required for users who aren't familiar with Linux.
What is the Obico team actually doing?​
Our plan is to:
Source a comparable alternative to the raspberry pi and purchase in bulk
The board will be minimally equivalent to the Raspberry Pi 3b+ with 1GB ram
Take pre-orders for the boards and ship them to users when they arive. We will not make any money on the boards. See pricing example breakdown below.
Develop an easily installable Octoprint image that allows easy installation through the Raspberry pi Imager (this is a non-trivial task)
Board Only​
| Item | Model | Quoted Cost |
| --- | --- | --- |
| SBC | Orange Pi Zero 2 | $24.91 |
| Dev | Dev. + Customer Support Cost | $10 |
| Shipping | USPS | Market Rate |
Kit​
| Item | Model | Alibaba Cost |
| --- | --- | --- |
| SBC | Orange Pi Zero 2 Kit | $24.91 |
| Camera | Example Webcam | $25 |
| Power supply | PSU Unit | $7 |
| Printer Cable | Printer Cable | $4 |
| SD Card | Sandisk Micro Sd Card 32GB | $7 |
| Dev | Dev + Customer Support | $10 |
| Shipping | USPS | Market Rate |
Note:
As mentioned above, we have not finalized the exact board we will purchase in bulk due to the rapidly changing supply chain conditions. Because, of this prices may change slightly.
Add your email to the list so we can let you know when it's time to place your order!.