Obico Vs. OctoEverywhere - All You Need to Know
· 12 min read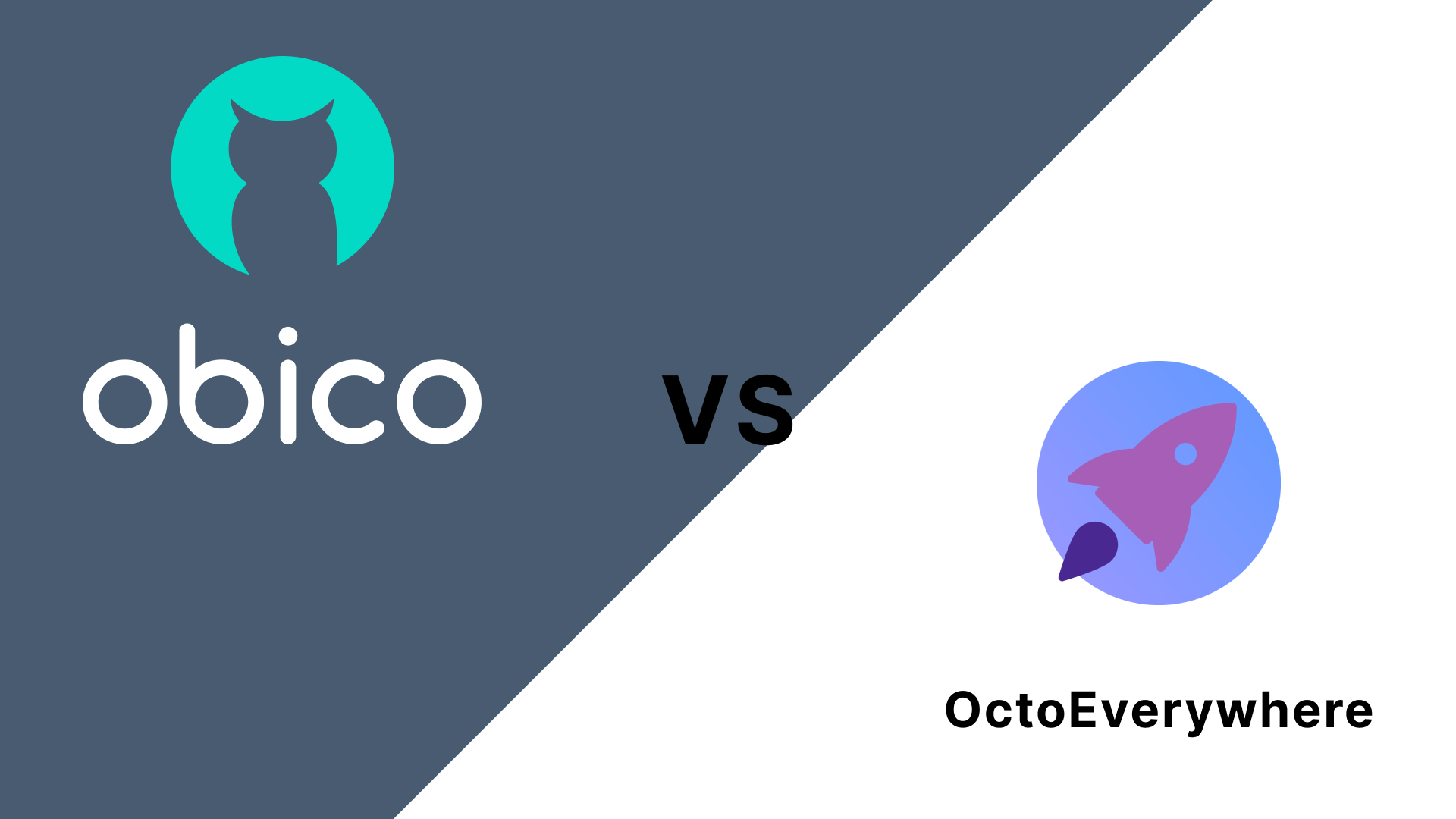 Introduction​
OctoEverywhere and Obico are two of the most popular Octoprint plug-ins developed to let you access your 3D printer virtually anywhere in the world. Both these plug-ins have great functionality and features that enhance the overall experience of using your 3D printer remotely.
In this article, we'll take a detailed look at these plug-ins and understand them inside-out. Towards the end, you'll have a complete understanding of Obico and OctoEverywhere, and will be able to choose the best plug-in that matches your remote 3D printing necessities.
Why do you require Octoprint plug-ins for remote 3D printing?​
Octoprint by itself is a fantastic 3D printer host software that lets you remotely access your 3D printers. You can monitor and control your printer from your desktop without having to be near the printer. But, this remote functionality is limited solely to your local network.
It denotes that your Octoprint 3D printer and the device should be connected to the same wireless network for you to access your 3D printer. This limitation prevents you from accessing your 3D printer on a mobile network or when you're far away from your printing area.
Moreover, Octoprint's User Interface is not optimized for use on smartphones and small tablets. And while using Octoprint on the phone is technically possible through a browser, it will result in a poor user experience. This restriction also means that you're limited to accessing Octoprint via a laptop or desktop.
Obico and OctoEverywhere plug-ins help you to overcome these limitations by letting you access your 3D printers from anywhere and on any device. They're easy to set up, have a user-friendly interface, and feature various functions mainly designed for remote 3D printing.
Obico for Octoprint​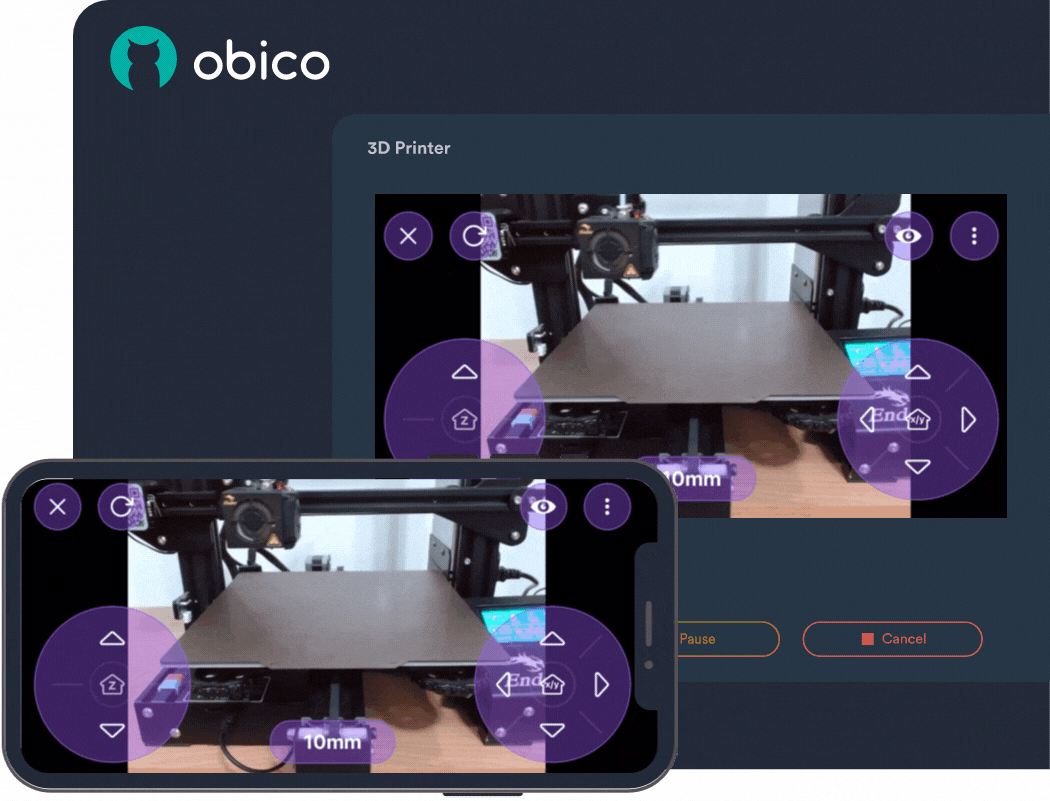 Obico is the successor to the popular The Spaghetti Detective (TSD) plug-in for Octoprint. It improves vastly over TSD while retaining the core AI detection functionality. It is entirely open-source and designed to integrate seamlessly with Octoprint.
Obico for Octoprint gives you complete and secure remote access to your 3D printer, and you can use it to monitor, control and record time-lapse videos of your printing process. In addition to these basic functionalities, Obico comes with AI detection technology for recognizing and stopping failed prints.
Obico's designed for multiple platforms comes with a free mobile application letting you access your 3D printer on Android and iOS devices. It's easy to install for Octoprint, and you can refer to this detailed guide to configure your Octoprint 3D printer with Obico.
OctoEverywhere for Octoprint​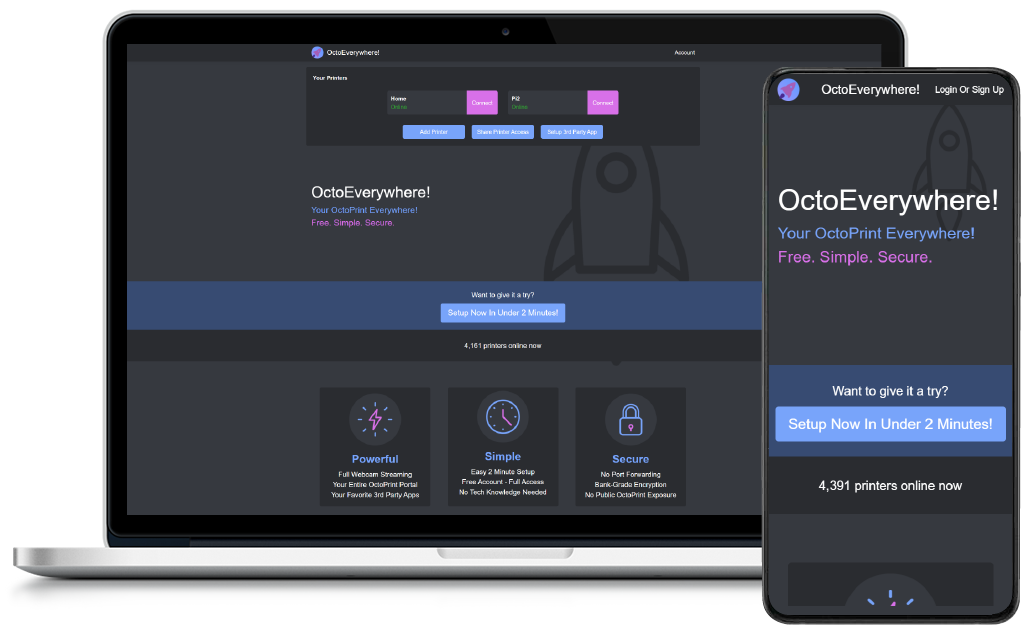 OctoEverywhere is similar to Obico in several aspects and gives you all the essential features for remote monitoring of your 3D printer. It lets you access your Octoprint instance on a browser interface and is tightly integrated with other Octoprint applications (OctoApp, Printoid, Polymer, Octopod), which you can use on your mobile phones.
It's designed for ease of use, and the user interface is highly intuitive to access all of its features. You can use OctoEverywhere to control the printer, send Gcode files, and receive notifications about your printer's status. Quinn Damerell - the developer behind OctoEverywhere, has recently introduced an AI failure detection feature for the plug-in. However, it's still in the Beta stage and might take a while before a full-proof release.
Like Obico, OctoEverywhere for Octoprint is quick to set up, and you can connect your printer with the plug-in in under 10 minutes. You can refer to this guide to configure the OctoEverywhere plug-in for your 3D printer. We'll compare all of the features in detail below.
Feature Overview​
| Features | Obico | OctoEverywhere |
| --- | --- | --- |
| | Free | Pro |
| Remote Printer access | Yes | Yes  |
| | | | Mobile phone App | OctoApp, Octopod, Polymer | Printoid, OctoApp, Octopod, Polymer | | Live Stream Sharing | Yes | Yes | | Print notifications | Yes | Yes | | Octoprint UI access | 100 MB tunneling | Unlimited | Unlimited | | AI Failure detection | 10 AI hours | 50 AI hours | Not yet | | Multiple Printer support | 1 | Additional Printers $2/mo | 1 | 5 | 10 | | Webcam streaming | 5 FPS/30 seconds (Desktop or app) | 25 FPS, Unlimited. 
(Desktop, app, Octoprint UI) | 20 seconds with Octoprint UI | 2 minutes, with endless back-to-backstreaming | Unlimited streaming at 24 hours | | Gcode files transfer | 100 MB | 500 MB | 20 MB | 500 MB | 1024 MB | | Pricing (Annual, per month) | Free | $4.00 | Free | $2.49
$3.29
$5.99 | $8.99
$12.99 |
Features​
Remote 3D printer access​
Obico and OctoEverywhere are designed from the ground up to give you complete remote 3D printer access on Octoprint. The remote access is entirely secure, and your printers are not loosely exposed to the internet. You can remotely monitor your printers via a connected plug-in. However, the streaming frame rates and resolution vary between the two, depending upon the free or paid plans.
The remote printer control functions are standard on both plug-ins, and you can use them to control your printer's movements manually. You can start, stop and cancel your prints, and upload gcode files directly from these plug-ins to your printer.
Mobile Phone Access​
Obico has a dedicated and free companion application that works on Android and iOS devices. The app natively includes all the Obico's functionalities available on a desktop, and the UI is neatly designed so that you can easily access all the Obico's features.
You can skip the browser interface and use the Obico application for everything if you choose to. The Obico app gives you an easy and quick way to interact with your printer on the go from any device.
Obico also supports external Octoprint applications, which you might've already set up with your 3D printer. You can use Obico with Polymer, OctoApp, and OctoPod and combine the features of these applications with Obico's functionalities.
OctoEverywhere does not have its mobile application; instead, it works in conjunction with other Octoprint applications for remote-mobile access. OctoEverywhere supports OctoApp, Octopod, Printoid, and Polymer applications which work with android and iOS devices.
It limits new users from using OctoEverywhere on mobile devices, as you have to download, set up, and configure another app to access your printer on the go. It's not a significant drawback but something you'll need to consider with OctoEverywhere.
Live Stream Sharing​
You can conveniently create and share live streams of your 3D prints via a link on both plug-ins. Obico's live sharing feature is straightforward, and you can easily create a shareable link.
OctoEverywhere gives you more options when creating a shareable link, letting you specify the time limit and add the project's link in the configuration menu. Additionally, you can share complete access to your printer with your friends if they have an Octoprint account linked to your machine.
Live streaming links on both the applications are secure, and OctoEverywhere's Print Sharing feature is a bonus for anyone who needs secondary control on their machine.
Print alert notifications​
Obico and OctoEverywhere send push notifications about your printer's status on multiple platforms. You can receive information about starting, pausing, and stopping your prints on both plug-ins. Additionally, Obico will notify you about any failure signs and prompt you to take action.
You can configure these plug-ins to receive notifications on email, Telegram, Discord, SMS, Slack, Pushover, and Pushbullet platforms.
Octoprint Interface Access​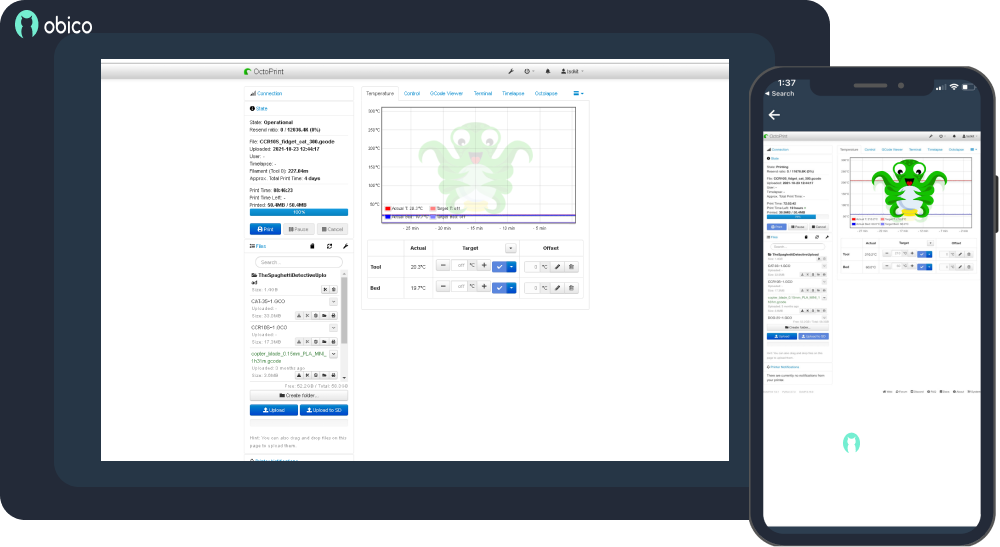 Obico and OctoEverywhere let you access your entire Octoprint UI on their platforms. It is convenient for users who need to use Octoprint's native features and are more accustomed to its UI.
You can use this function to configure your Octolapse settings, view the Gcode file, send print commands, and much more. Basically, both these plug-ins give you complete remote access to your Octoprint's UI on any device and any location.
However, Obico's free plan is restricted to 100 MB of tunneling capacity on mobile and desktop. On OctoEverywhere, you get unlimited access to Octoprint's UI on a desktop. The Pro plans of both plug-ins go beyond and offer unlimited Octoprint UI access on any device.
AI failure detection​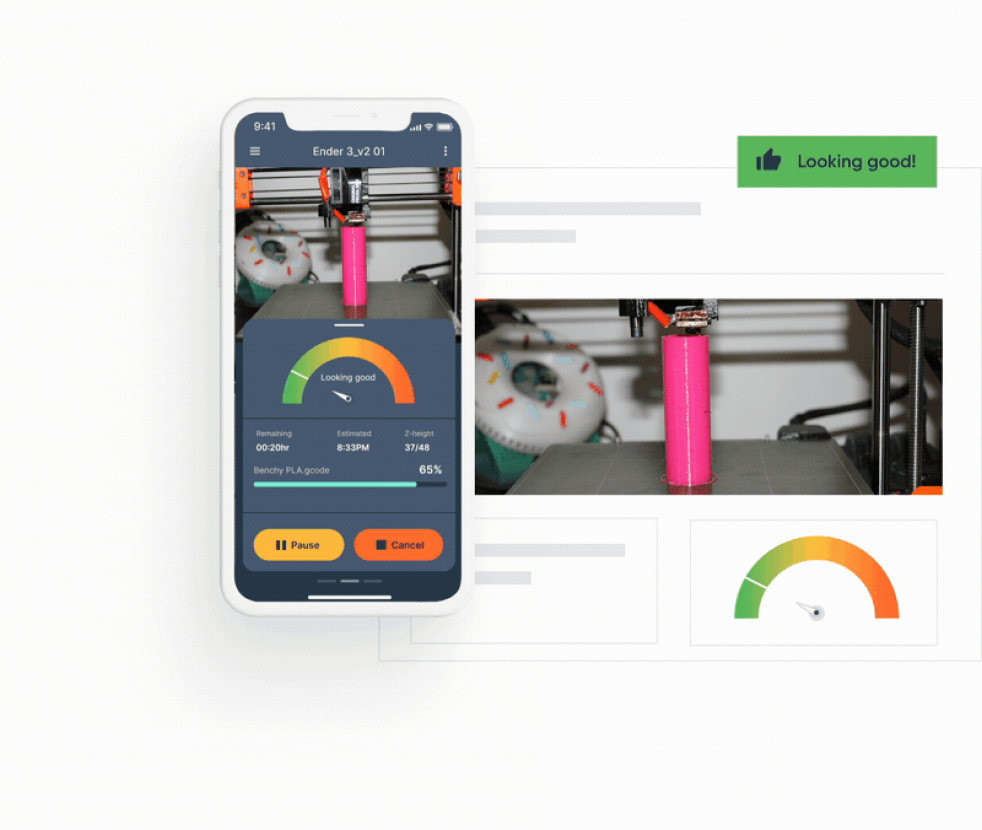 Obico is one of the leading programs using AI technology for detecting 3D print failures. Cumulatively Obico has over 60 million hours of 3D printing video footage which it uses to analyze print failure patterns and instantly notify you if it catches any failed prints.
But, AI failure detection is an exhausting task; the AI print hours in Obico are restricted to 10 hours/month in the free plan. In the Pro plan, you can get up to 50 AI hours/month included. However, Obico lets you buy as many AI hours as you'd need for a minute fee in both plans if you need more AI detection.
OctoEverywhere has recently announced its AI detection assistant - Gadget. This feature is still in the Beta testing phase and might take a long while for Gadget to be proficient in detecting print failures.
Multiple Printer Support​
Adding multiple 3D printers for remote 3D printing is taxing on the plug-ins' infrastructure; hence, both the plug-ins offer support for solely a single printer on their Free plans. It's adequate for hobbyists and casual 3D printer users.
You can add multiple printers by subscribing to a paid plan on both plug-ins. Obico lets you add an extra printer for $2/month if you opt for their annual plan. Likewise, OctoEverywhere's standard Pro version supports up to 5 printers, while the Elite plan has support for up to 10 printers.
These multiple printers' functionality benefits print farms and industrial printing situations. You can monitor and control numerous 3D printers from a single place, and the plug-ins are designed for easy and quick switching between multiple machines.
Webcam Streaming​
Webcam streaming is one of the core features of both plug-ins. And as webcam streaming is a challenging task, both the plug-ins offer limited functionality in their free versions.
Obico's free account lets you stream at a rate of 5 frames per second (FPS) for every 30 seconds in a minute. But, the free version supports webcam streaming solely in Obico's app or desktop and not in Octoprint's UI. OctoEverywhere's free plan lets you access 20 seconds of video streaming at once on a desktop and Octoprint UI.
Obico allows webcam streaming at 25 FPS for an unlimited duration in the paid versions without any throttling or restrictions. In contrast, OctoEverywhere's Pro plan offers 2-minute webcam footage per stream, with endless back-to-back streams. And the Elite plan gives you unlimited streaming for up to 24 hours in a single go.
Gcode Files Upload/Download​
For a seamless, remote 3D printing experience, both the plug-ins let you upload and download gcode files on the go. But, again, the file size limits differ between their paid and free versions.
Obico's free plan lets you upload a single file of 100 MB at once. And the Pro plan increases the capacity by allowing you to upload 500 MB of gcode files in a single instance.
On OctoEverywhere, you can upload mere 20 MB gcode files on the free account. The Pro plan lets you upload up to 500 MB, and the Elite Plan offers the largest file size, with a single file of 1024 MB during a single upload.
Additional Features​
Self-Hosting​
Obico lets you create your local server and run the Obico plug-in. As it's completely open-source, you can completely customize Obico's functionalities and appearance and tweak anything at your convenience. The self-hosting feature gives you an additional layer of privacy by giving you total control over your printer's camera feed and functions.
OctoEverywhere still has no functionality like this yet. But, as it's open-source, too, this functionality can be added in the future, although there's no certainty on it.
Multi-Platform Support​
Along With Octoprint, Obico is built for Klipper as well. You can access your Klipper based 3D printer with the Obico application and get access to remote 3D printing on it. Obico, thus gives the users a choice to easily connect and switch between multiple 3D printer platforms.
OctoEverywhere is built solely for use with Octoprint, and you're restricted to adding Octoprint connected 3D printers on the platform.
Documentation and Support​
Documentation and support play a vital role in the user experience of any plug-in, particularly in the case of niche feature plug-ins like Obico and OctoEverywhere.
Obico has an excellent support community on Discord which you can use to get answers to your issues in real-time. It's quick and easy to use, and you can always learn from other members' mistakes and experiences. For documentation, there are several user guides and support docs that you can access to get an understanding of Obico's various features.
OctoEverywhere is relatively in its initial stages, with limited documentation or support guides for new users. The community support is also minimal; you'd need to contact the developer if you run into any issues.
While the plug-in is easy and intuitive, having extra docs and budding community support certainly helps novice users and beginners.
Obico Or OctoEverywhere?​
Well, it depends! The answer to this question comes down to your necessities, workflow setup, and printing scenarios. Both plug-ins are excellent in functionality and offer a great set of features extending Octoprint's capabilities beyond your home WiFi.
You can try out free plans for these plug-ins, experiment with their features, and choose the best one that's ideal for your needs.
Let us know in the comments about your experiences with remote 3D printing and using these plug-ins. We'd love to hear your stories or if you have any other inputs, feel free to comment below.