Thingiverse Alternatives - Choosing the Best 3D Model Repository
· 13 min read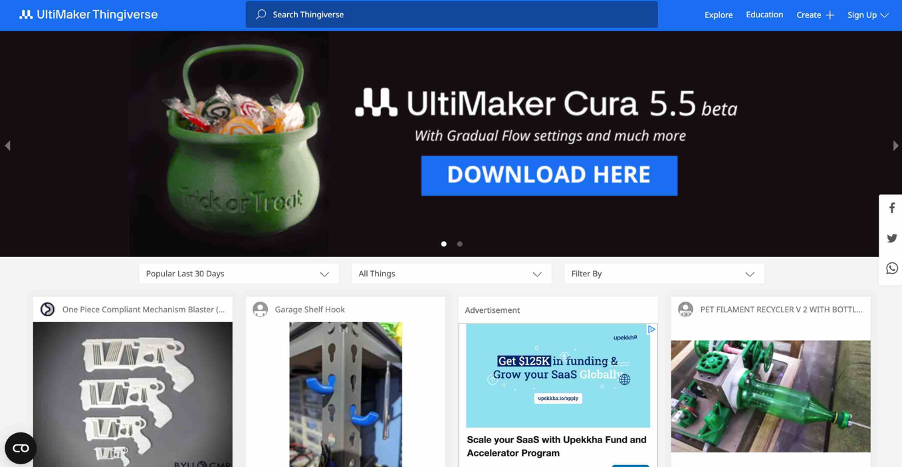 Thingiverse homepage/Courtesy: Thingiverse
It is unlikely that you have not heard of Thingiverse if you have spent any time in the 3D printing community. Thingiverse has long been a reliable source for free STL files. It's 'the' place to go for printable models. However, because the world of 3D printing is vast, we have compiled a list of the best Thingiverse alternatives worth investigating. If you want to dive deeper on any of these 3D model repositories, check out our article on the best 3D model repositories.
About Thingiverse​
Before we get started on the long list, let's first know about Thingiverse. Thingiverse has been a staple of the 3D printing community since its inception in 2008. It's more than just a repository; it's a meeting place for artists from all over the world. Thingiverse has fostered a collaborative environment where people come together to share, explore, and create with an extensive library of user-generated content.
This platform is beloved for its friendly community, plethora of designs, and simple interface. It's a place where beginners and experts can come together to share ideas and designs in an open-source environment. Now, let's look at other galaxies in the 3D printing universe.
Despite the fact that many new repositories have emerged, they are all judged and compared with Thingiverse, and we will do the same. Examining the best Thingiverse alternatives available.
Best Thingiverse Alternatives ​
Printables​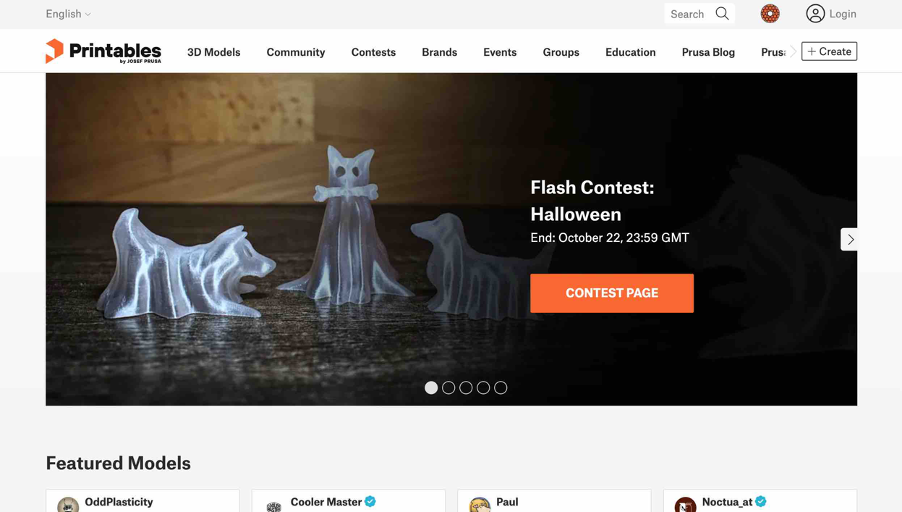 Printables 3D model repository/Courtesy: Printables
Printables is one of the best Thingiverse alternatives. Prusa Research, known for its high-quality and dependable printers, created it. It is a free model repository, much like Thingiverse. You do not need to own a Prusa printer to access this repository, contrary to popular belief.
The Printables section of the repository has a more modern look than the more straightforward and traditional Thingiverse. Categorization and filtering are especially well done, making it quick and easy to find your desired model. You can also search by printer type, material, nozzle diameter, print time, and even the amount of filament used. The search even allows for resin 3D printing differentiation.
Printables now hosts contests in which users compete for fantastic prizes. They recently launched 'Printables Clubs,' a creator subscription service similar to Patreon. Members have access to exclusive models, can vote in creator polls, and receive other perks. Earnings more than double for creators with at least 50 active supporters.
Printables has been aggressively adding new features and expanding its offerings, resulting in a thriving platform with a significant network effect. Participating in this platform is an exciting adventure.
Thangs​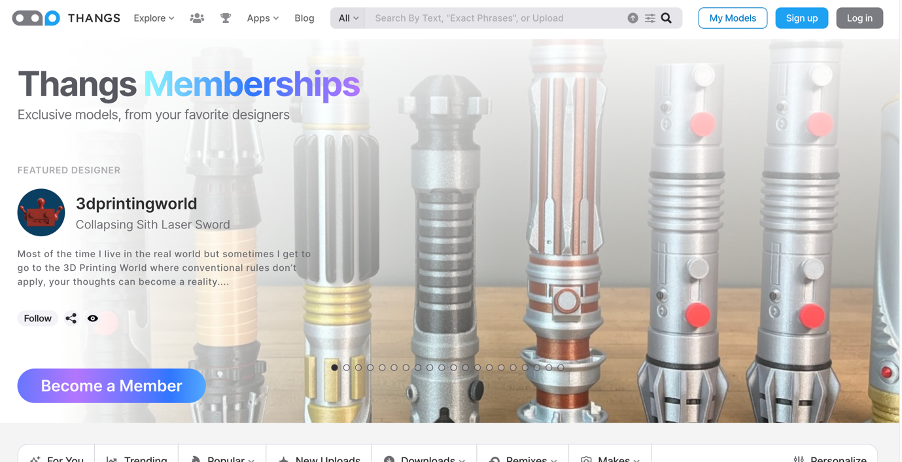 Thangs 3D file repository/Courtesy: Thangs
Thangs, a strong alternative to Thingiverse, is more than just a 3D file repository—it's also a powerful search engine. Thangs has quickly gathered a thriving community since its August 2020 launch, with an impressive collection of over 14 million files gathered from across the web.
Thangs has recently introduced a new Membership program to help designers better manage the accessibility of their premium designs.
Thangs is a valuable resource for 3D designers, engineers, architects, and scientists, similar to how software developers use GitHub for collaboration and version control. It allows designers to upload their work and facilitates collaboration with annotation, comparison, and progress tracking tools.
Thangs, like Thingiverse, provides a plethora of free files, with some linking to paid options. Users can sort models by type, price, and even external sources using the platform's effective filtering tools.
Thangs has recently been refreshed, with a cleaner user interface. It also includes augmented reality features for Android and Apple devices, allowing users to see models in real life. Thangs has also launched Thangs Sync, a cloud-based service that allows designers to securely store work revisions.
Cults 3D​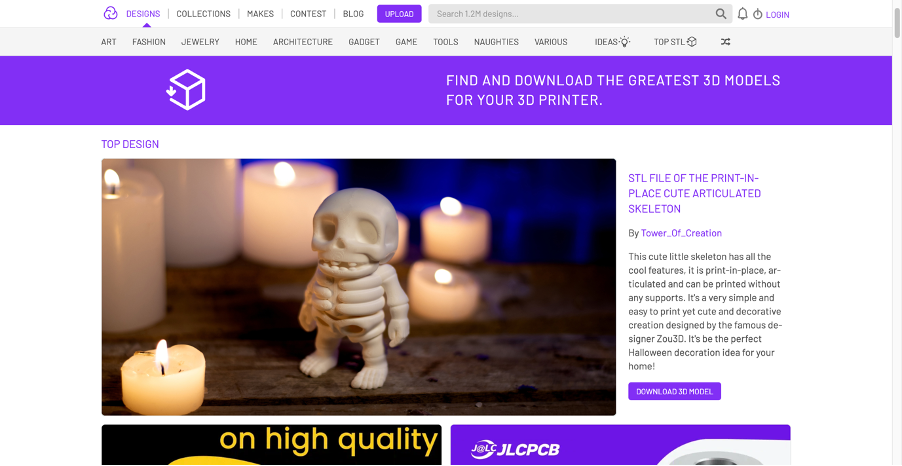 Cults homepage/Courtesy: Cults
Cults has been around for quite some time and has evolved into one of the best Thingiverse alternatives. The site receives over 55.4 million page views per month, 3.2 million unique visitors, and 7.95 million international makers members who have registered on our platform. This is a significant accomplishment, especially considering Cults3D was created by a very small team of only three French guys.
The site's name has its own backstory as well. Cults is named after St. Luc, but spelled backwards. St. Luc is the patron saint of sculptors and artists and so the name it quite fitting to what Cults is trying to build.
Cults is a marketplace that connects designers and people looking to create real-world objects using 3D printing, CNC machining, and laser cutting technologies. Cults sees itself as a social network that brings together all 3D printer enthusiasts so that they can interact with one another.
Cults is dedicated to all 3D printer, CNC machine, and laser cutter owners who want to make premium and unique creations.
The user interface is simple and straightforward, and there are numerous designs available for each search. It has an interesting category called Naughties in addition to some of the regular categories. Cults, like Printables, has contests, a monthly featured set of STLs, and even a random option to help you find a new design.
Because this platform offers both free and paid designs, it attracts a large number of creators who create unique designs, sell them on the platform, and earn passive income.
My Mini Factory​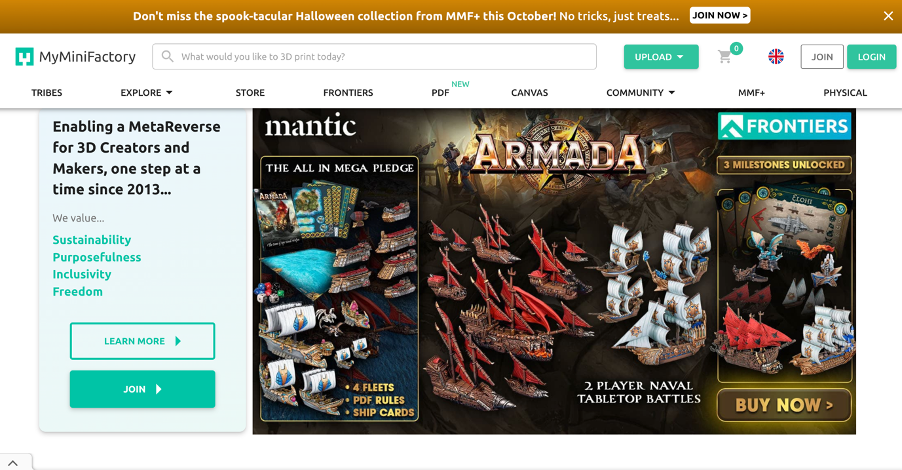 MyMiniFactory homepage/Courtesy: MyMiniFactory
MyMiniFactory is a 3D model distribution platform founded in 2013 in London, United Kingdom. MyMiniFactory, like other repositories, provides STL files for designers and makers who share free and paid 3D printable models. Creators can upload their designs, price them, and get paid when someone downloads them.
It has a slew of extraordinary features, including a monetization store where 92% of sales go to the creators, Tribes for creators to distribute exclusive content and rewards, FronTiers for creators to fund a sustainable business, Competitions, Scan the World, a community-built ecosystem allowing anyone to freely share digital 3D scanned cultural artifacts for 3D printing, MMF+, a subscription service that grants members exclusive rewards and offers, and to further support the community.
MyMiniFactory bills itself as a social platform for 3D printable objects, and based on the features, it most certainly is.
Yeggi​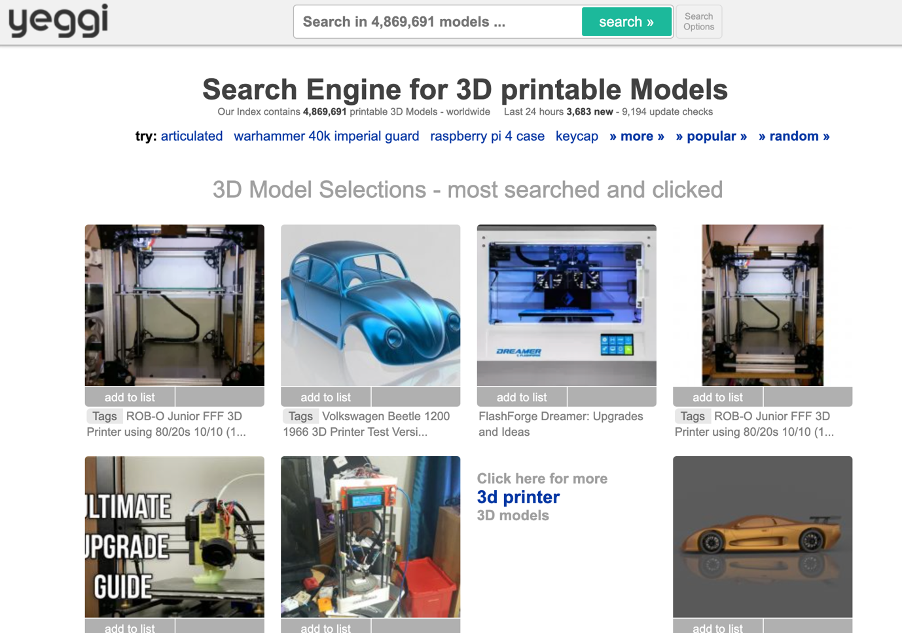 Yeggi search engine/Courtesy: Yeggi
Yeggi is a powerful search engine for 3D printable models, not a repository. Yeggi's homepage displays the most searched and clicked models in the previous 24 hours. IT continues to index new models, and at the time of writing, it had indexed 4,861,872 printable 3D models worldwide. 75% of the models shown on the platform are free to download, while the remainder are paid.
If you're not sure where to begin, simply look through the top 100 3D models list. It should be noted that the list is a collection of lists compiled by regular people, in the same way that a music playlist is compiled. To create such lists, one must first create a free account.
Patreon​
Patreon may appear to be an unlikely source of 3D models, but you will find some of the best models on the site. For those who are unfamiliar, Patreon is a platform where creators can build community and share exclusive content. To obtain any type of file, you must first join a creator for free or become a paid member. The plans are determined by the creator and will differ from one to the next. There are also creators who specialize in specific models, such as miniatures for tabletop games, wargames, and Star Wars models, while others are more generic.
Listing some of the popular creators with the most members below:
mz4250: Creating Free 3D Printable Miniatures for Tabletop Gaming!
onepagerules: Creating amazing 3D print miniatures & tabletop games!
GHAMAK: Creating 3D models of miniatures and game accessory STL for 3D
There are are lot more such creators and you can search for STL files in the Patreon search bar. 
Gambody​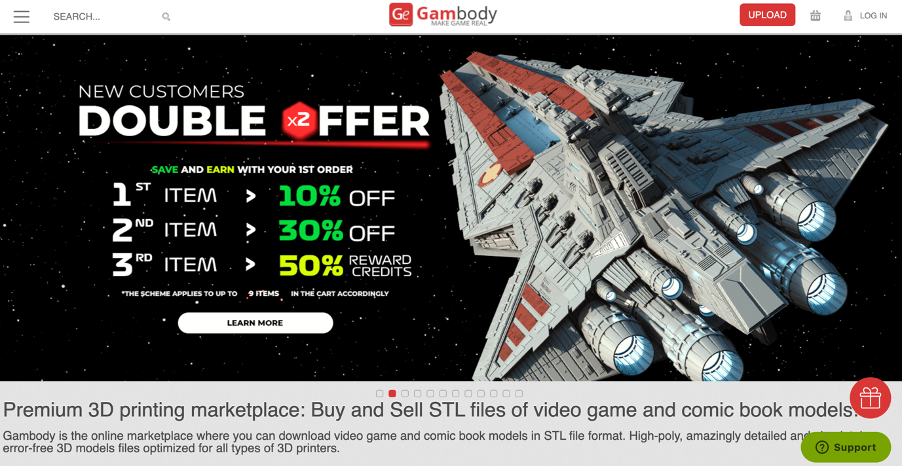 Gambody 3D printing marketplace/Courtesy: Gambody
Gambody is a high-end 3D printing marketplace that ranks among the best Thingiverse alternatives. It is a marketplace where you can buy and sell 3D models from video games and comic books. It has a small number of free models, but it provides excellent support for all paid models. They guarantee zero errors, and the 3D model files are optimized for all types of 3D printers.
If you are a fan of comic books, video games, or movie franchises, as well as a 3D printing enthusiast, Gambody is the ideal platform for 3D printing models of their favorite heroes, war vehicles, aircrafts, cars, and more. Find characters from Star Wars, Lord of the Rings, Marvel and DC universes, TV shows like Game of Thrones, games like Diablo, Warcraft series, and many more.
Gambody also collaborates with 3D printer manufacturers to offer a collective bundle, or creates character bundles. It also has a referral program and a gift card so that people can choose a model, have it 3D printed by Treatstock, and have it shipped to their door.
It's more unique than Thingiverse, but it's an option if you're looking to buy high-quality models.
Pinshape​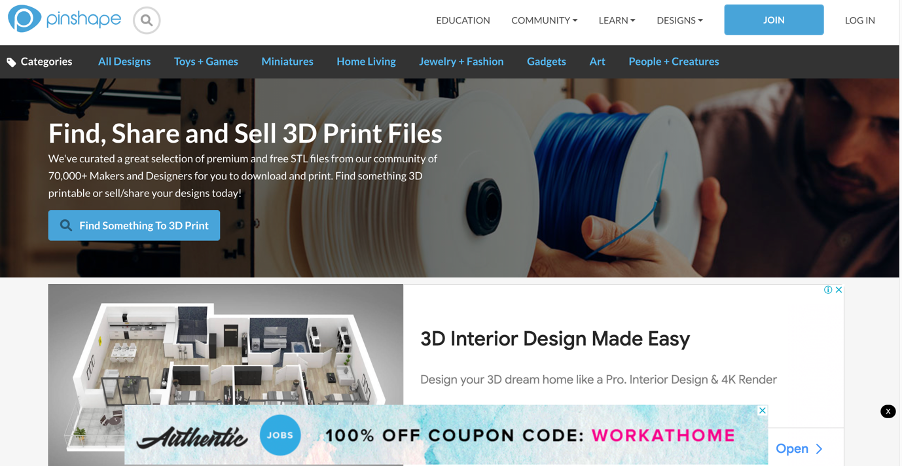 Pinshape, the 3D printing community and marketplace/Courtesy: Pinshape
Pinshape is a 3D printing community and marketplace where you can find high-quality 3D printing files, similar to Thingiverse. Many makers, designers, and manufacturers share their design files for free, but some are sold for pennies on the dollar. One can search the various categories for relevant designs.
It has a community of over 70,000 makers and designers. It has some great designs and there are many designs to choose from, but the platform appears to be out of date. Pinshape used to be a fantastic platform, but in recent years it has fallen out of favor and appears to have lost its allure. The pages load slowly, there are many advertisements, and the homepage almost always displays the same popular designs.
NASA​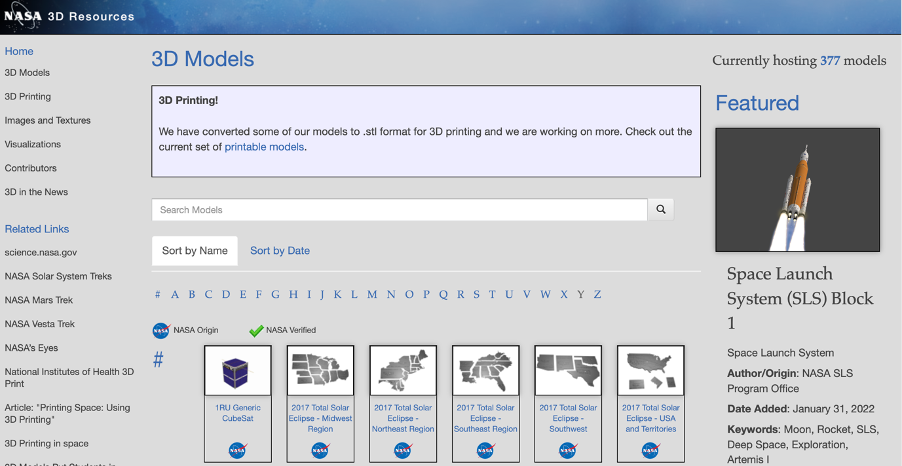 NASA 3D library/Courtesy: NASA
You might be surprised, but NASA does provide hundreds, if not thousands, of free 3D models for download. You don't even need to create an account; simply perform a quick search or browse through their catalog to download the model you want. The NASA 3D library is chock-full of fascinating and incredibly cool models such as rovers, space shuttles, astronaut figurines, space station, and many more. However, be aware that the platform's interface is not as user-friendly as that of many popular repositories.
CGTrader​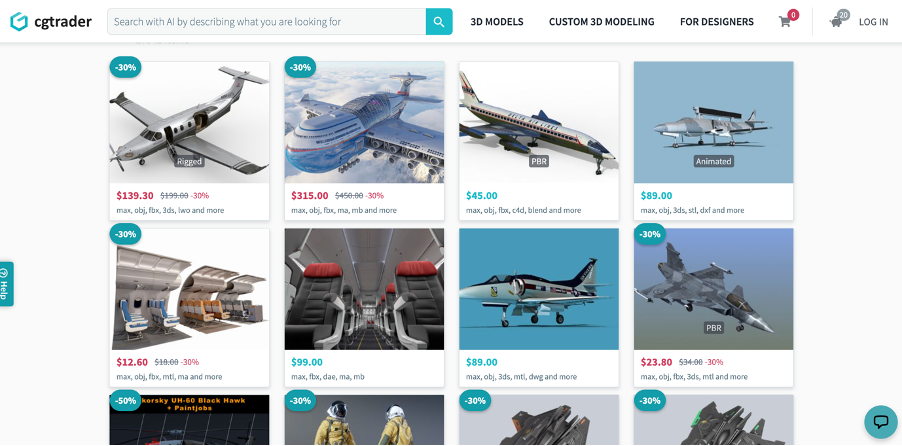 Aircraft models on CGTrader/Courtesy: CGTrader
CGTrader, with offices in Europe and the United States, is one of the largest providers of licensable stock and custom 3D models. It is a 3D model marketplace for VR/AR and CG projects, as well as a professional 3D designer community, with 1,810,000 3D models and an 8.00 million user managed community.
To begin, CGTrader was founded in 2011 by Marius Kalytis, himself a 3D designer, to be the first designer-friendly online marketplace for buying, selling, and creating professional 3D content.
The platform's CGTrader Enterprise 3D modeling is a standout feature, allowing enterprise customers and online retailers to convert their 2D product images into photorealistic 3D models for Augmented Reality and other 3D customer experiences.
It is one of the few marketplaces that has received multiple rounds of funding for the development of new innovative enterprise solutions.
Smithsonian​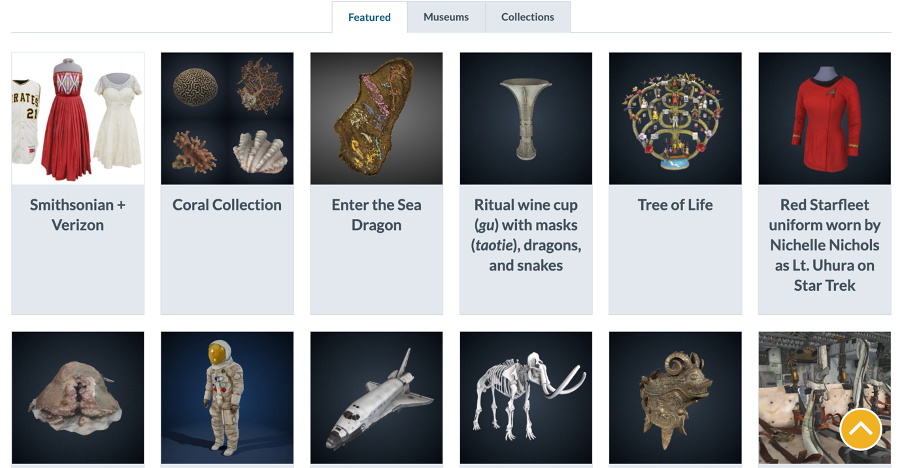 Smithsonian 3D/Courtesy: Smithsonian
The Smithsonian Institution is the world's largest museum, education, and research complex, as you may be aware. Smithsonian 3D is also a step toward digitizing the museum's content. It covers a wide range of subjects, including sports, portraiture, fashion, and outer space.
The models shown here have not been tested for 3D printing, so you have no idea how the results will turn out. So, simply download and test them. You can download the model in a variety of resolutions and formats, including OBJ, STL, and others. Some of these are not available in STL or OBJ format for download.  
GrabCAD​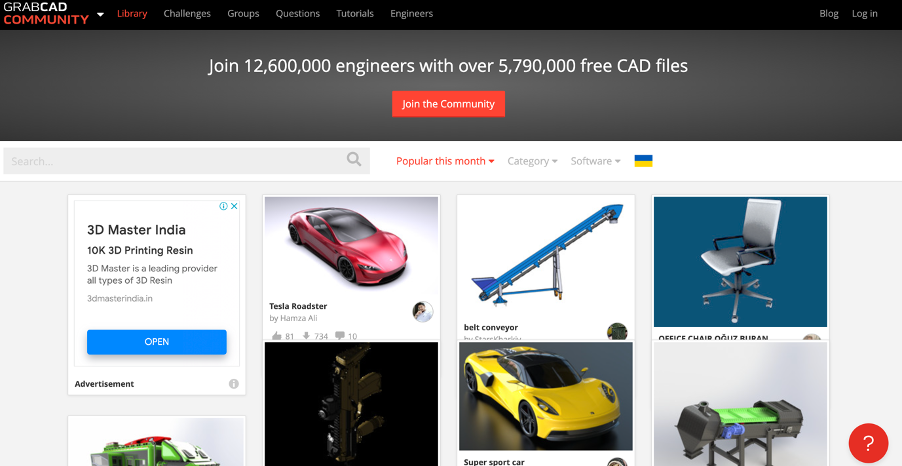 GrabCAD homepage/Courtesy: GrabCAD
GrabCAD is one of the world's largest online 3D printing communities, with over 100,000 professional engineers, designers, manufacturers, and STEM students. It is easily classified as a Thingiverse alternative, as it has 7 million members and over 5 million free CAD files for everyone to download. It also provides tips, tutorials, an engineer portfolio, the opportunity to earn money by participating in challenges, and much more.
You may freely download the files, but you must first create an account in order to download the designs. You will also be able to like and comment on the designs with this.
GrabCAD is a Stratasys company that offers free GrabCAD Print software to help users streamline their Stratasys 3D printing workflow. It also provides other solutions, such as GrabCAD Shop, to help shop owners manage 3D printing requests.
With all of these offerings, GrabCAD provides a comprehensive solution and has thus built a large community.
YouMagine​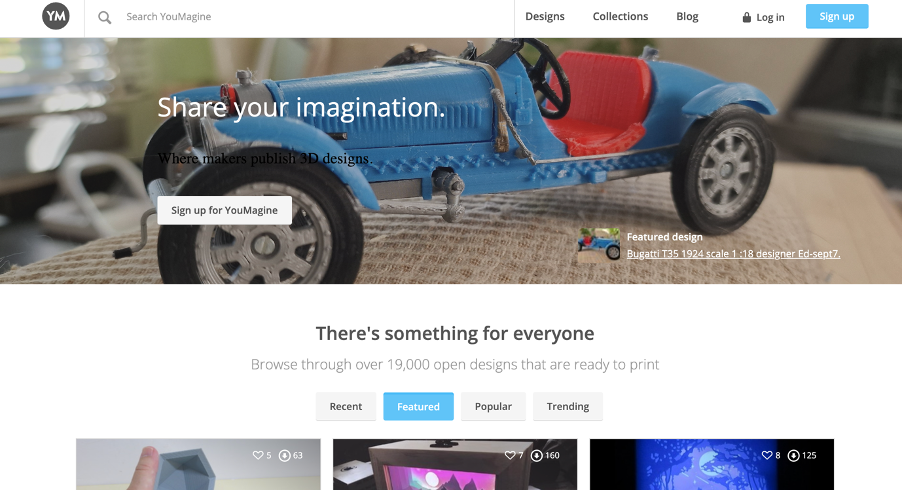 YouMagine user interface/Courtesy: YouMagine
YouMagine is a smaller 3D printing repository that has gained attention due to the fact that it was founded by Ultimaker founders Erik de Bruijn and Martijn Elserman, as well as Jankees van Woezik, co-founder of Stekker.app.
The YouMagine repository contains over 19,000 ready-to-print designs that can be explored and browsed using the search bar or existing collections. The user interface is minimalistic, making it difficult to find good designs. It gives the impression that the website is not regularly updated and that new models are not uploaded on a regular basis. The company does not disclose the number of active users or creators, so it is possible that they do not have a large number of active collaborators, and thus the repository has fallen out of favor with the larger 3D printing community.
However, you can always search for relevant designs on the platform, which is an option you can try.
Zortrax Library​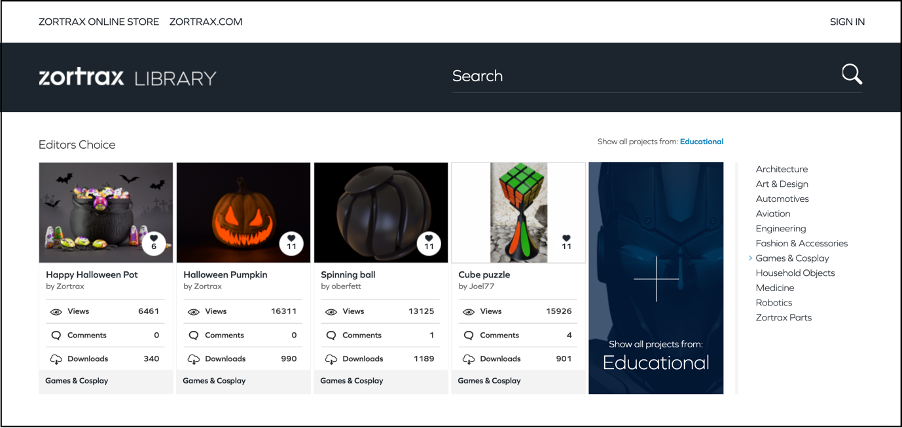 The Zortrax Library/Courtesy: Zortrax
The Zortrax Library functions more like an app than a full-fledged repository where users can upload their 3D models. The library is an attempt to bring together creative people to share their projects and the joy of 3D printing. As a result, the library is not a marketplace where designers can earn or make money, but rather a location for sharing project files and receiving feedback on them.
The models are displayed in the Zortrax Library under various popular categories such as architecture, art and design, education, games and cosplay, medicine, Zortrax parts, and more.
All of the models have been optimized for 3D printing, and people have mentioned the materials and printers they used.
The library is open to everyone, including those who do not own a Zortrax 3D printer. To use the same and even comment on the designs, one only needs to sign up.
Other Notable Mentions​
The above list is not exhaustive, and there are more such Thingiverse alternatives, so we've included a list of other notables below for you to consider. If you're interested, you can look them up.
3DModels
3DExport
Free3D
Threeding
Creality Cloud