Remote 3D Printer Software - Choosing the Best Software for Your Needs
· 13 min read
Gone are the days in 3D printing where you constantly need to be tethered to a 3D printer. There are now automated software tools that allow you to monitor and control your printer without being present in the same room. Some of these applications give you unrestricted access to your machines and let you operate them from anywhere in the world.
In this article, we'll look at eight remote 3D printing software you can use to run your 3D printers remotely. These programs are suited equally well for hobbyists and professional 3D printing farms and can be a great way to ease out the manual workload in your workflow.
Let's power up your remote 3D printing setup!
What's The Need For Remote 3D Printing?​
Easy Monitoring​
Remote 3D printing frees you from being chained to your 3D printer for the entire printing process. Especially during long printing hours, it's challenging to constantly keep an eye on your 3D printer for any chances of print failures.
With remote monitoring software, you can observe your prints on your phone, iPad, and laptop, in real-time. This functionality makes it convenient to operate your printers without always being bound to them.
Print from Anywhere​
By operating your printers remotely, you also enable yourself to work on other tasks that require your physical presence. For example, several users start their prints, go to the office, and keep and can monitor their printer from the office with a remote printing software.
Furthermore, if you have a perfect setup 3D printer, you can start your 3D prints from anywhere in the world. You can monitor the prints' progress, layer by layer, and intervene if you find any errors.
Reduces Manual Labour​
In the case of print farms or a professional 3D printing setup. Whereas Remote 3D printing can save you on your manual labor costs. You only need a camera and an internet connection, and you can monitor your printers without needing a dedicated person.
Some of these remote printing software features AI failure detection that can detect a print failure in real-time and notify you about them. They act as your 3D printing assistant and keep an eye on your printers.
It ultimately reduces your operation and labor costs, and you can instead invest in other aspects of printing, like post-processing, better materials, and printers. These are merely a few primary reasons you'd want to 3D print remotely. There are several other benefits that you will discover as you get more hands-on with this approach.
Now that we've understood some of the benefits of printing remotely, let's go over the different software you can use to create your own remote 3D printing setup.
Best Remote 3D Printing Software​
Octoprint​
Photo Courtesy of OctoPrint
Octoprint stands atop every other remote 3D printing software owing to its popularity and broad compatibility with several 3D printers. It's open-source, accessible, and typically runs off a Raspberry Pi board.
These things make it easily accessible and relatively cheap to set up. With Octoprint, you can access all essential features, such as remote printer control, camera monitoring, file uploads, print notification, etc. But, the core element behind Octoprint's success lies in its vast plugin repository that extends Octoprint's functionalities beyond the basics.
For example, the Bed Level Visualizer plugin gives you the print's bed topography graph, using which you can examine the level of your print bed. The Octolapse plugin lets you shoot time-lapse videos without disturbing the printer's movements. Likewise, there are over 360 Octoprint plugins, each with different benefits.
Yet, Octoprint is not without its shortcomings. Many users have reported a downgrade in print quality when printing with Octoprint vs. SD card. Moreover, Octoprint natively restricts you solely to your local wireless network. You'll need to install plugins like Obico for Octoprint if you wish to print beyond your router's wireless signal.
Octoprint remains one of the best remote 3D printing software for hobbyists and professionals. The vast community support and constantly improving features are its strong points, giving it an edge over other software.
Best Features
Embedded webcam feed
Vast printer compatibility
Extensive plug-in support
Excellent community support
Drawbacks:
Restricted to home network by default
Dated User Interface
Price:
Repetier​
Repetier is one of the earliest 3D printing software and has been leading the game since 2011. It's a complete suite of different programs (a slicer, an app, firmware, and a server) that function together to enhance your remote printing experience.
The Repetier server is the one you'll need to install to get access to wireless 3D printing. It can work locally on a Raspberry Pi or a computer and give you remote printer access. However, it is limited to your home network and you'll need to configure a VPN or use port forwarding to access your printer outside your house.
Yet, the benefits of the Repetier suite far outweigh its drawbacks. The Repetier host slicer software lets you fine-tune almost every small setting for your 3D models. Its feature set is vast, and the simple User Interface makes navigating its various features easy.
You also have the support of a Repetier mobile app that keeps you informed about the progress of your prints. You receive instant notification and action updates on your phone or tablet so that you don't need to watch over your 3D printers constantly.
If you're a print farm owner or use printers professionally, you can customize Repetier to suit your setup requirements. You can configure its appearance, tweak some configuration settings, and even get access to its source code if you want to personalize it for your printers.
The entire Repetier suite is excellent as remote 3D printing software for hobbyists and professionals. However, the lack of a cloud service option and a slightly puzzling configuration setup are some points that can be improved in the future.
Best Features
Complete 3D printer software suite
Multiple slicing engine options
Multi Extruder Support
Velocity Painting in slicer
Drawbacks:
Restricted to home network by default
Puzzling set up
Price:
Free
~$70 for the Pro software
Astroprint​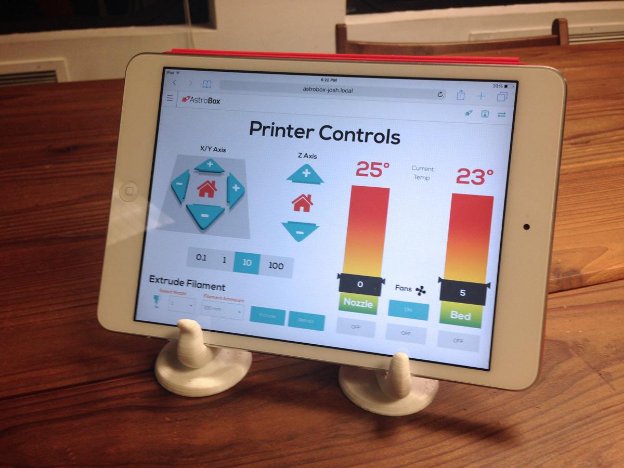 Photo Courtesy of JayLoerns licensed under CC BY-SA 4.0
Astroprint is a full-fledged remote 3D printing service developed with professional and educational scenarios in mind. It's positioned primarily as a cloud 3D printing service comparable to Octoprint.
For instance, it, too, runs off a Raspberry Pi board and offers you a comprehensive hardware suite to complement its software features. You can set up Astroprint using their Astrobox or configure it yourself with a Raspberry Pi and Octoprint.
Once set up, you get access to features like cloud slicing, remote control and monitoring, print queues, detailed analytics, and many more. For professional users, you can get admin-level usage permissions and restrict user access to certain functionalities.
Astroprint can help you shift your entire 3D printing process to the cloud. You can directly load models from MyMiniFactory, slice them in Astroprint, and send them to your printers without opening any other software. This simplicity makes it extremely easy for beginners and students to get started with 3D printing.
To conclude, Astroprint was developed to provide a straightforward user experience and to be a slightly more easy-to-use version of Octoprint. It's easy to set up, loaded with features, and comes with free and paid plans, giving you the freedom to choose the version that suits you the best.
Best Features
Multi-user management
Cloud library and Print slicing
Easy to set up and use
Drawbacks:
Limited control options for printing
Need to purchase Astrobox or use Octoprint
Price:
Free
~$10/mo per month for Premium
Polar Cloud​
Photo Courtesy of Polar Cloud
Polar Cloud is a full-fledged cloud 3D printing software that gives you access to your printers from anywhere. It connects your 3D printer via the Internet, giving you unrestricted control over your printers from any device, including iPads and smartphones.
The development and design of Polar Cloud are inclined on the professional side and focused on ease of use. As such, it comes pre-installed with Flashforge, Ultimaker, Dremel, and Monoprice 3D printers. For other machines, you can install it via the Polar Cloud Octoprint Plugin.
Polar Cloud's Canvas slicer makes it easy for anyone to prepare their models for 3D printing. Moreover, you have complete access to your printer's print history, data giving you an insight into your printing history.
Coming to its plans, the free plan of Polar Cloud gives you limited access and monitoring capabilities. However, its paid version opens up several possibilities for remote 3D printing, and a $50/ year price tag provides you with tons of valuable features.
At its core, Polar Cloud is developed as a 3D printing software for schools and professionals in the industry. But, with its limited yet functional feature set, it also serves as a good software for individuals and beginners. So, it can be an excellent choice if you're looking for a relatively cheap and easy-to-use remote printing software.
Best Features
Browser based operation
Cloud slicing using Canvas Slicer
Print cost quotations
Sell Digital Design Files
Drawbacks:
Limited features in free version
Price:
Free
~$5 per month for Premium
Creality Box​
Photo Courtesy of Creality Cloud
The Creality Box is a neat little remote printing solution similar to Astroprint but solely for Creality 3D printers. It comes in a small router-like form factor and includes a 1080p webcam for remote print monitoring.
The box itself has limited functionalities if any, and it's the Creality Cloud App that makes remote 3D printing possible. Once set up, you can browse through a repository of 3D models akin to Thingiverse. You can slice these models directly within the app and send them to your 3D printer from your smartphone.
You can also view a live feed of your print-in progress in the app via the supplied webcam. The camera stream is of decent quality and adequate for remote monitoring. The app also automatically stores time-lapse videos of your prints that you can later share with your peers.
Although Creality positions it as a plug-and-play device, several users have complained about connectivity and setup issues. The printer compatibility is very inconsistent, and it's challenging to know beforehand whether the box will connect to your printer.
Furthermore, the box is not open-source and doesn't support any external plugins or applications, limiting it from using print failure detection software like Obico. The lack of compatibility with other webcams, too, can be an issue and limit you in terms of its camera quality.
Regardless, for basic remote 3D printing, the Creality box offers a good solution for hobbyists and beginners on a budget. It's pocket friendly at $60, doesn't have recurring costs, and is a well-suited option for Creality 3D printers.
Best Features
Easy to set up and use
Budget pricing
Huge model repository
Cloud slicing
Drawbacks:
Connectivity can be an issue
Unreliable performance
Price:
Duet Web Control​
Photo Courtesy of Duet
The Duet Web Control (DWC) interface for duet-based 3D printers lets you access your 3D printers wirelessly. For Klipper users, the UI of DWC might seem familiar to Mainsail or Fluidd, as the latter were inspired by DWC and its feature set.
With DWC, you can you can upload, edit and flash your printer's configurations from the interface. Similarly, DWC allows you to upload your 3D models, organize them, and start and stop prints remotely from a web browser.
The DWC interface is also optimized for smaller screens, letting you monitor your 3D prints from your smartphones or tablet devices. The UI is neatly laid out, with separate sections for different functionalities, freeing the main dashboard from unnecessary clutter.
DWCs macro buttons are also a neat feature to execute repetitive tasks with a single click. You also have the option to create custom macros for specific tasks. There's also the option to add external plugins, but their support is currently limited.
Its limitation lies in that DWC is compatible with fewer boards (Duet, BTT) that can run the RepRap firmware, and you're restricted to your home network. The steep cost of Duet boards and restricted remote access can be limiting factors for several users.
That said, the Duet Web Control is excellent if you're building up a custom 3D printing project. It can be an excellent way to control and monitor your printer remotely without needing a separate printer screen or output device.
Best Features
Full printer control with Duet Electronics
Ability to interface IP webcam
Adaptive display for phone, computer, tablets
Drawbacks:
Limited board compatibility
Information can be overwhelming for new users
Price:
Obico​
Formerly known as The Spaghetti Detective, Obico has evolved beyond simple AI failure detection. With the rebranded software and new features, Obico now gives you complete remote access to your printers and functions as your 3D printing assistant.
The AI failure detection feature in Obico is one of the most sophisticated in the industry, with over 20 Million printing hours watched. It uses AI and machine learning to collect data from these monitored prints to detect print failures in a better way. This automatic print failure detection helps you to save tons of wasted filament and countless failed printing hours.
Besides this feature, you have the option to use Obico as cloud vs. self host it. The cloud option is easy to use and allows you to control and monitor your 3D printer from anywhere and on any device.
Whereas, for self-hosting, you'll need considerable technical knowledge and a separate computer/server for its operation. And while it's a slightly more secure way of using Obico, configuring remote access and setting everything up can be a challenge, especially for non-technical users.
Although Obico is a remote 3D printing software, it needs a companion program.
So, you'll need to set up Octoprint or Klipper before using Obico. The best thing, though, is that Obico has plenty of documentation and set-up guides for both.
Obico's print failure detection gives it an edge over other remote 3D printing software. With remote printing and ease of use, Obico is a lucrative option for users of all levels and can help improve your remote printing experience.
Best Features
Local server setup
AI failure detection
Easy to use on any device
Budget pricing
Drawbacks:
Needs a base software
Server setup is highly technical
Price:
Free (1 printer)
Paid - $4 / month
Final Thoughts​
Remote 3D printing software is excellent for helping you out with your printing workflow. They eliminate the need for constant monitoring and give you an easy way to monitor your printers wherever you are.
However, Obico gives you an advantage over other software with its AI print failure detection capabilities. All you need to do is start and stop the prints; Obico takes care of everything else. You can refer to the Obico for Octoprint and Obico for Klipper set-up guides and try out this software.
Have you used any of these software before? If yes, what was your experience with them? Let us know in the comments below.