Best Christmas Gifts to 3D Print for 2023
· 10 min read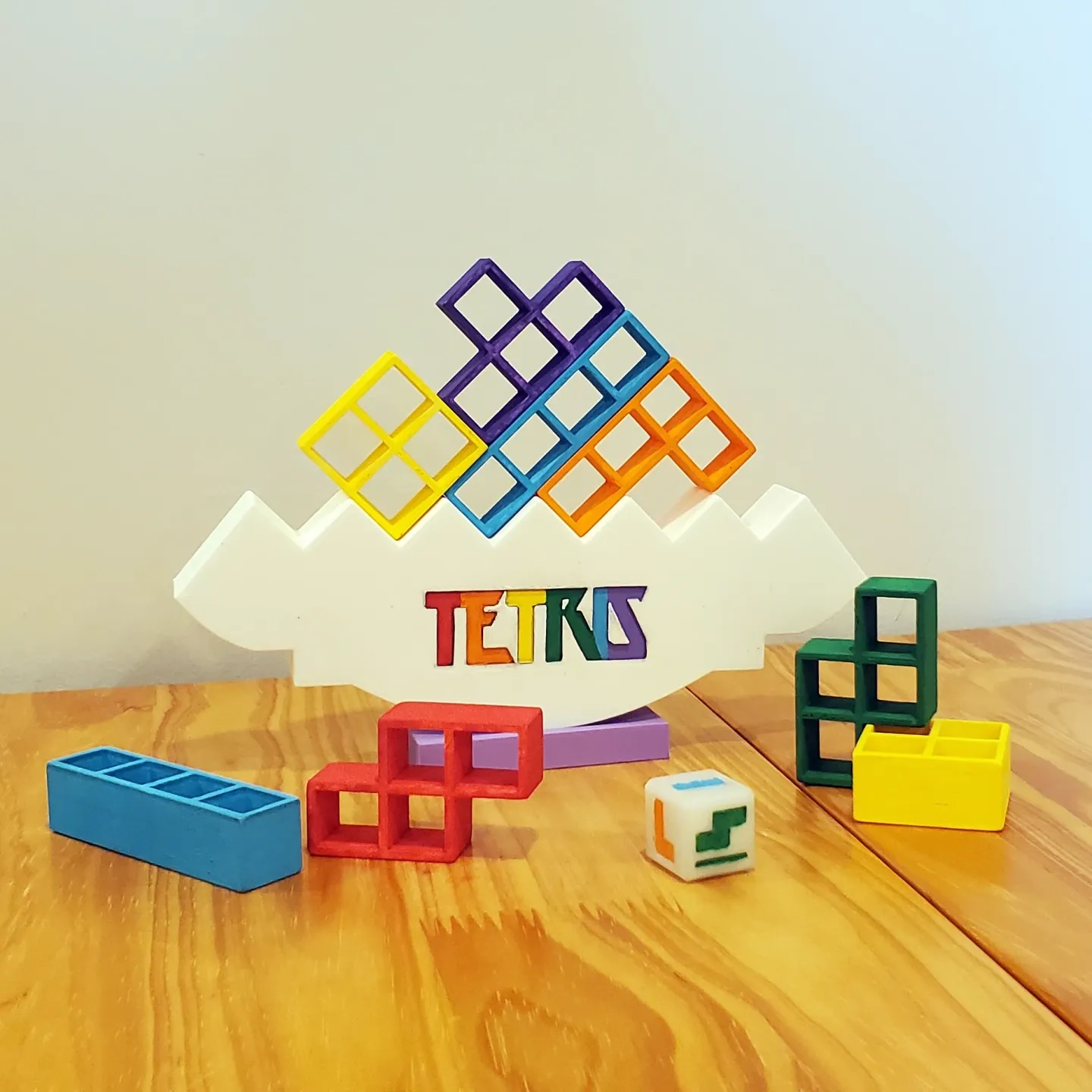 As we step into the festive season of 2023, the search for the "Best Christmas Gifts to 3D Print" is on the minds of many readers and that is what brought you this article. We've compiled a list that marries innovation and heartfelt gifting by combining the spirit of the holidays with the cutting-edge world of 3D printing. These 3D printed creations promise to make your Christmas truly memorable, from unique home decor to tech-savvy surprises.
Whether you're an experienced 3D printing enthusiast or just getting started, our selection caters to all skill levels. Explore these inventive ideas for elevating your holiday season. Join us on this journey as we reveal the "Best Christmas Gifts to 3D Print for 2023," ensuring that your holiday celebrations are filled with creativity and joy.
Christmas - 3D Printed Advent Calendar​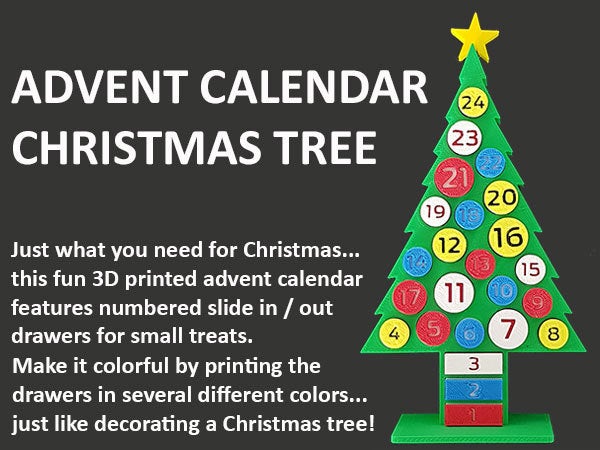 3D printed advent calendar / Courtesy: Cults3D
An Advent Calendar is a special calendar used to count down the days until Christmas. It usually starts on December 1st and ends on December 24th. Every day, a new calendar window or door is opened to reveal a surprise, usually a small gift or a piece of chocolate. This will surely be one of the best Christmas gifts to 3D print this year. The 3D printed Advent Calendar will take this annual tradition to the next level.
You simply need to download the STL file from an online repository and have it 3D printed. We have shared one link with you that is in the shape of a Christmas tree and has compartments for each day.
The Advent Calendar can be enjoyed at home by children or given as a gift to someone special.
The exciting part is that you can customize and personalize the advent calendar as you wish; the 3D printed version will be unique and create a memorable experience unlike any other; and, finally, it will be durable and can be used year after year.
What gifts will you include in your advent calendar? Start thinking!
Christmas - Decoration Set​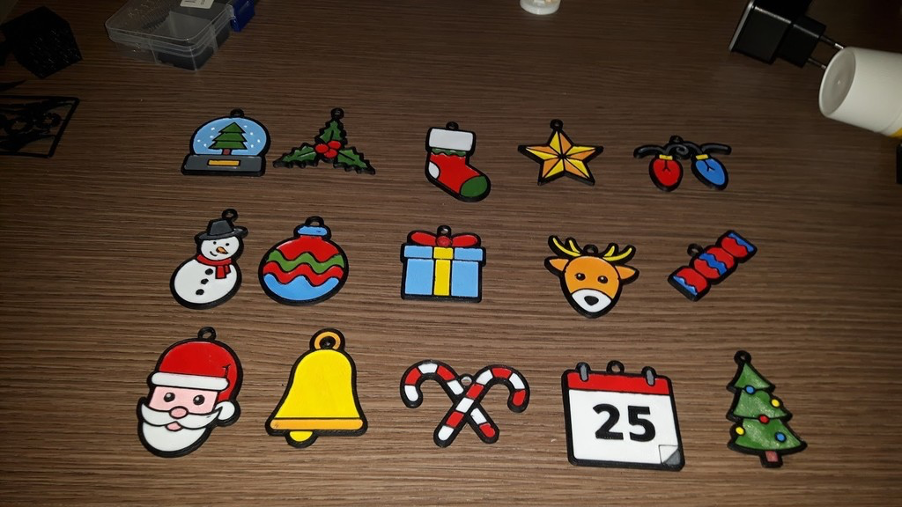 Christmas decoration set / Courtesy: Thingiverse
Christmas is a time for families to reunite and redecorate their homes. Young and old alike are enthralled by the atmosphere and go to great lengths to decorate it.
This Christmas, we have a Christmas decoration set that you and your children will enjoy. The set contains 15 items that are ideal for hanging on your Christmas tree. You can 3D print these for free using the design files provided in the link and then easily paint them. Painting will also be a great way for your family to bond. Use water-based acrylics whenever possible.
Calendar, candy canes, Christmas crackers, Christmas tree, Christmas bauble, decoration lights, mistletoe, bell, present, reindeer, Santa Claus, snow globe, snowman, star, and Christmas stocking are among the 15 items.  
Christmas - Party accessories​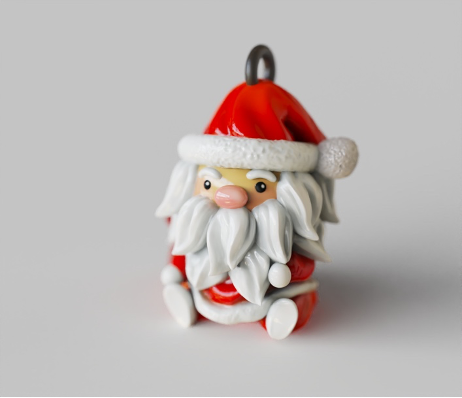 Santa Claus Keychain / Courtesy: Cults3D
This next gift item is, once again, related to Christmas, but we promise it fits the theme. While smaller decoration items can be made, multiple Santa Claus and reindeer figurines liven up the overall atmosphere. We are confident that your children will enjoy these accessories. Many households have Christmas themed party accessories, and this set is the ideal solution to your decorating problems.
We've provided several links so you can pick and choose which ones to print. You can also choose to print them all.
Santa Claus: We've gathered a variety of Santa links, such as Funko Pop Santa Claus, Santa Claus Keychain, and Santa Claus face wall hanging.
Reindeer: Sleigh and reindeer Christmas ornament, Holiday Christmas Deer, and Sitting reindeer are a few Reindeer links.
Elves: Finally, Elves such as Christmas elves, and Elves.
You can plan a Christmas themed costume party to create a theme feel, or you can 3D print and gift all of these characters like Santa Claus, elves, reindeer, or even Christmas trees to the party host.
Christmas - Stone Planter Set​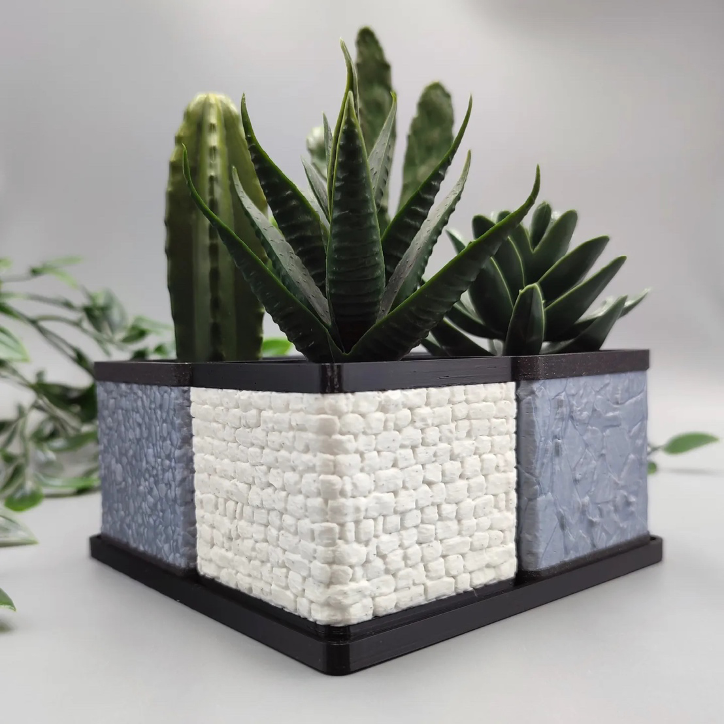 Stone planter set / Courtesy: Printables
Planters (with trees) are a timeless gift that everyone appreciates. And, while planters in the local market may appear to be the same, they do not have to be. We've got a great Christmas present for you: a free STL file for a cube stone planter set. The planter in this set is designed to look like a stone construction that is both vintage and classic.
Because this is a set, you get three different stone styles: pebble, brick, and stone wall. They look stunning when printed in the appropriate colors (or later painted in the appropriate colors).
These planters are ideal for both indoor and outdoor use. They look elegant in the house and complement clay planters in the garden.
Kids - Toy Train and Tracks Project​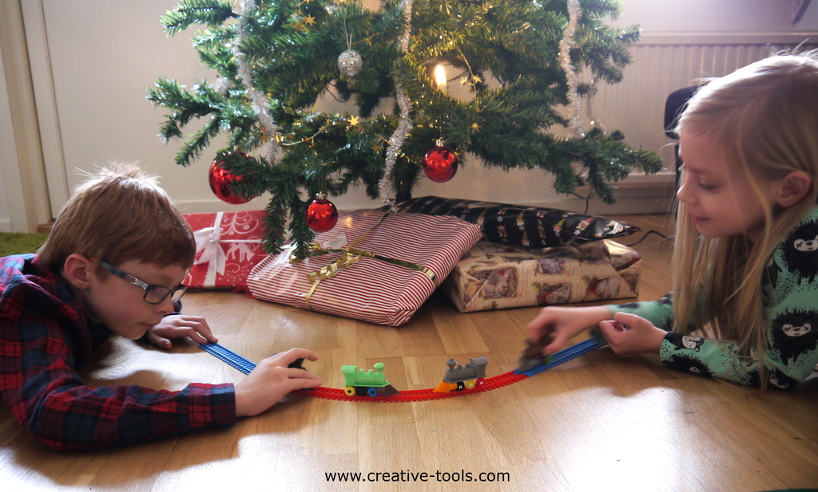 Toy Train and Tracks Project / Courtesy: Thingiverse
The charm of a toy train is timeless. This is a traditional Christmas gift for children. It not only reminds adults of their childhood and how much they enjoyed playing with toy trains, but it also allows them to create a collective memory with their children.
Traditional train sets sold in toy stores have a limited number of waggons and rail tracks, but 3D printing allows you to take the experience to the next level. You can 3D print an infinite number of tracks to keep the train running the length and breadth of your home. Consider your children running around the house behind the train as it passes through your living room, kitchen, bedroom and possibly even the garden.
The dual print versions of the tracks are a standout feature of the track. This provides a distinct aesthetic touch by allowing you to print the sleepers and rails in various colors. It's a minor detail, but it will undoubtedly engage children and elevate the overall experience, elevating your 3D printed train set from a toy to a work of art.
So the question is, how big of a track will your 3D printer print?
Kids - LEGO Saturn V and Lunar Module​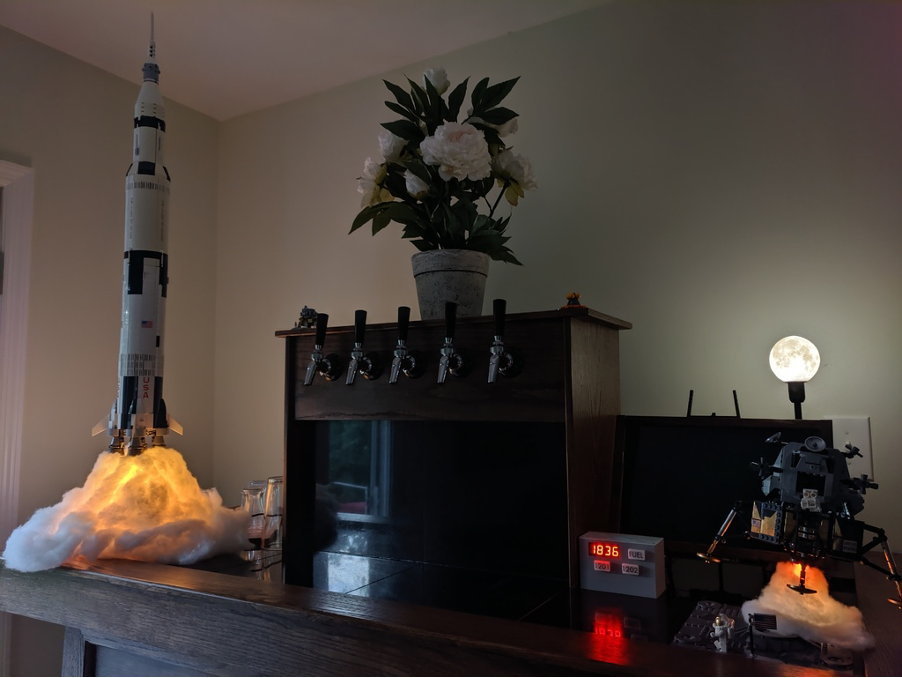 LEGO Saturn V and Lunar Module / Courtesy: Thingiverse
The fascination with the skies, stars, and moon is shared by all children. And it all comes down to space shuttles that orbit the Earth and travel to the Moon and Mars. This is what the following gift addresses with a Saturn V launch vehicle and a lunar module.
The Saturn V was a super heavy-lift launch vehicle developed by NASA as part of the Apollo programme for human lunar exploration, as well as a lunar module that landed on the Moon's surface.
It would be a fascinating toy to have in your home to encourage your children to fantasize about the stars and the universe.
Both products are ideal for a Christmas gift for your child, as both parents and children can work together to build the modules. Printing and assembling the various parts will be a difficult task, but it will be a once-in-a-lifetime experience for your children. Download all of the files for free, 3D print them, and get building!
Adults - Anemometer​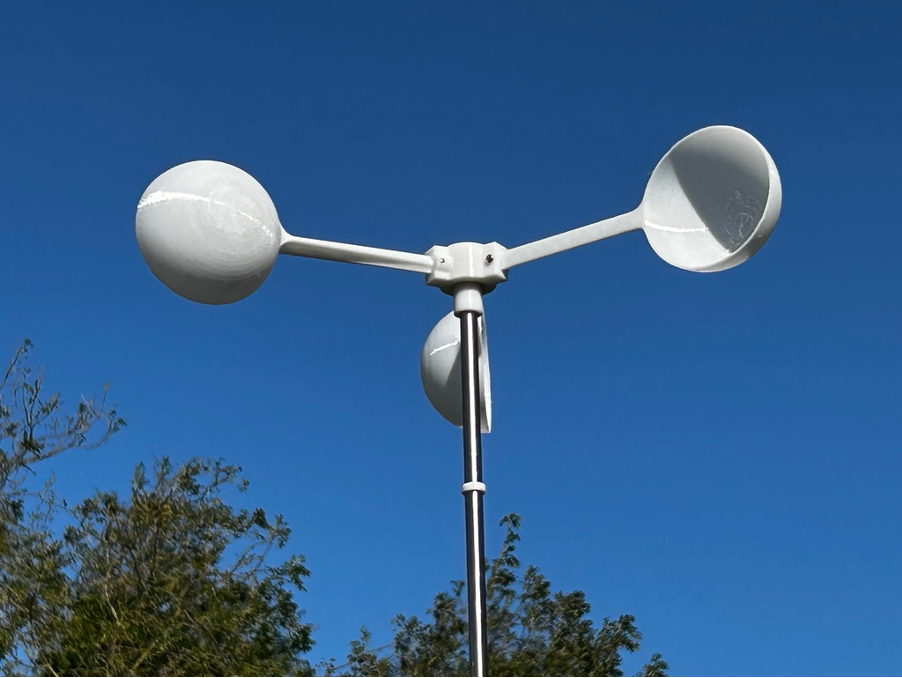 Modular Anemometer / Courtesy: Thingiverse
Finding the ideal Christmas gifts isn't just for children; adults can appreciate gifts that add value or pique their interest as well. If you have family members who live on farms or in remote areas, they are in for a pleasant surprise! The Modular Anemometer is a one-of-a-kind gift for adults, especially those who enjoy weather forecasts and outdoor activities.
The Anemometer, which is primarily used to measure wind speed and pressure, is a versatile instrument with two functions. It not only allows you to explore the fascinating world of weather patterns, but it also provides farmers with valuable information about upcoming weather conditions based on airflow and speed patterns.
But though we say this is a gift for the adults, it also provides an excellent learning opportunity for curious young minds. The Thingiverse page give more details on how to print and measure readings from this instrument and we recommend users to check out the download page for a detailed set of instructions. Note that this will require some amount of coding knowledge.
Adults - 3D printed RC airplane​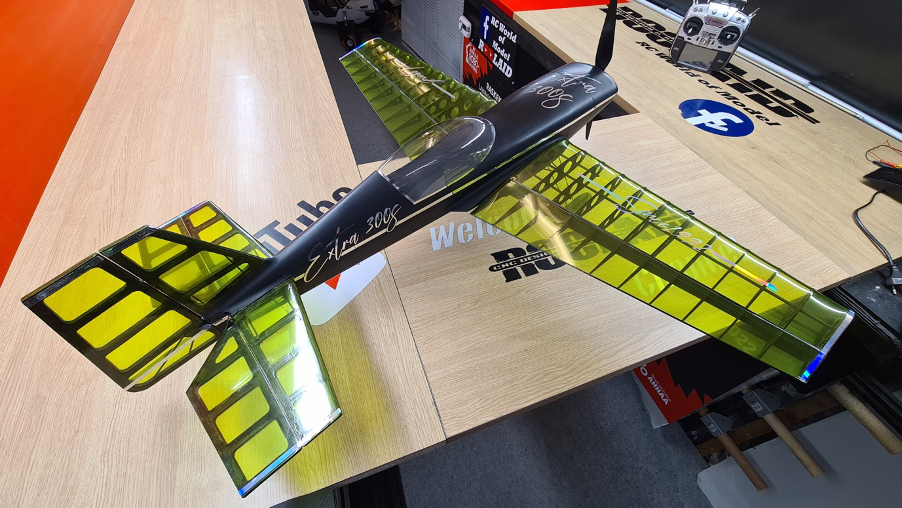 3D printed RC airplane / Courtesy: GrabCAD
Are you ready to embark on an exciting project that combines your creativity and passion for aviation? While RC airplanes are commonly associated with children's toys, building one can be a rewarding experience for both adults and children.
Imagine the excitement of building your own RC airplane and flying through the skies with a wingspan of 1000mm and a take-off weight of 600gms. It's an excellent opportunity to bond with your children while also introducing them to the wonders of flight.
Though it may appear that there is a lot of work involved, from 3D printing components to wiring and electronics, we have simplified the process as much as possible. In addition, we've posted a detailed video tutorial on YouTube to walk you through each step.
So, if you're a guy who loves planes or if you're just looking for a new and exciting project, this is your chance. Download the 3D model files, gather your materials, and build the RC airplane.
Adults - A 3D printed game​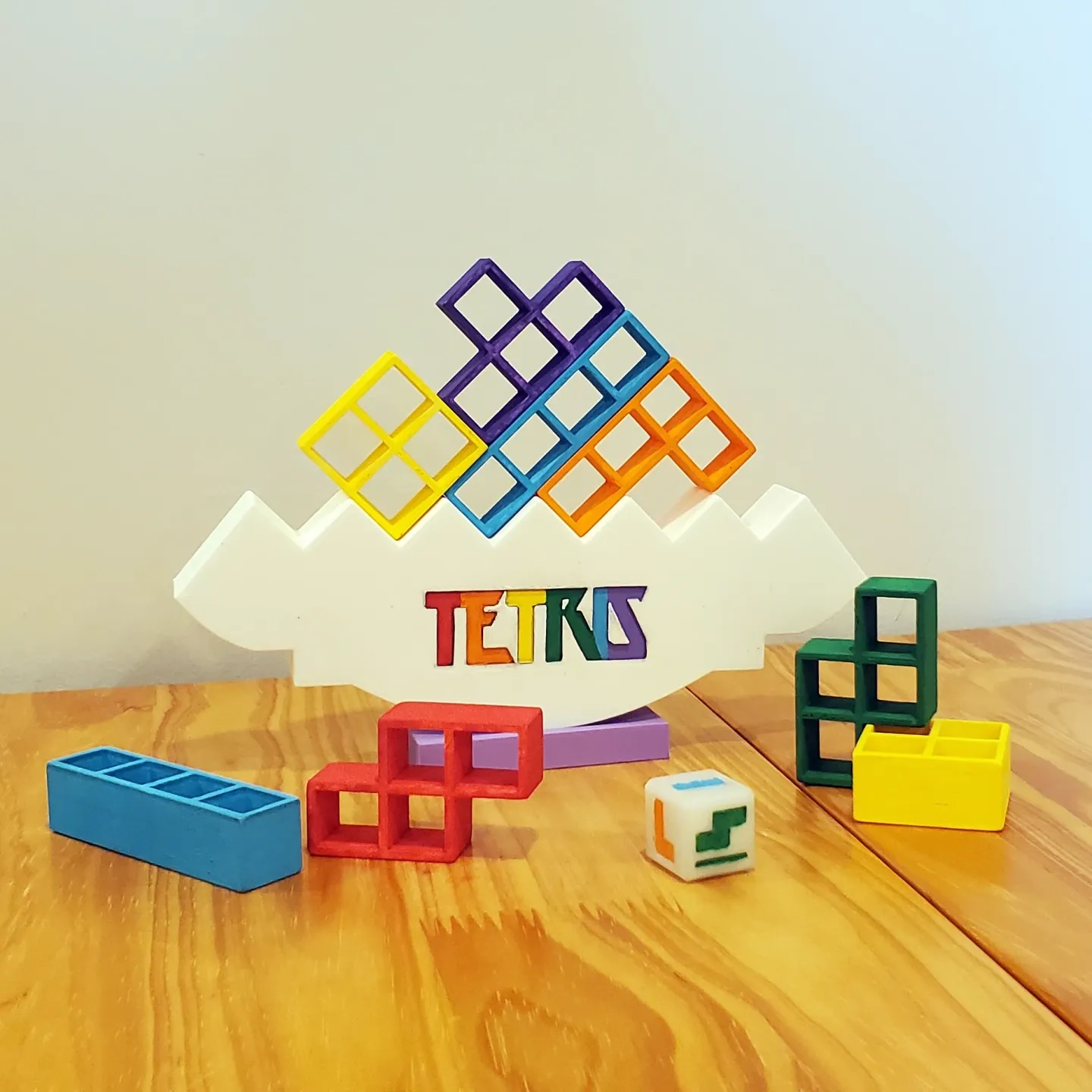 3D printed Balance Tetris game / Courtesy: Printables
Have you ever been captivated by the classic game of Tetris on your gaming console or mobile device? If not, here's your chance to do so in a whole new way! Check out this Tetris-inspired balance game, which is the perfect combination of fun and challenge.
To begin, simply download the print file, 3D print the game pieces (3 sets are recommended, but 6 sets work well according to some), and start playing.
The game is also simple to play. Simply roll the dice and stack the corresponding piece for an exciting surprise. The goal is simple: build the tallest stack you can while staying balanced and keeping those pieces from falling over. See it in action.
Adults - Apple iPhone MagSafe charger​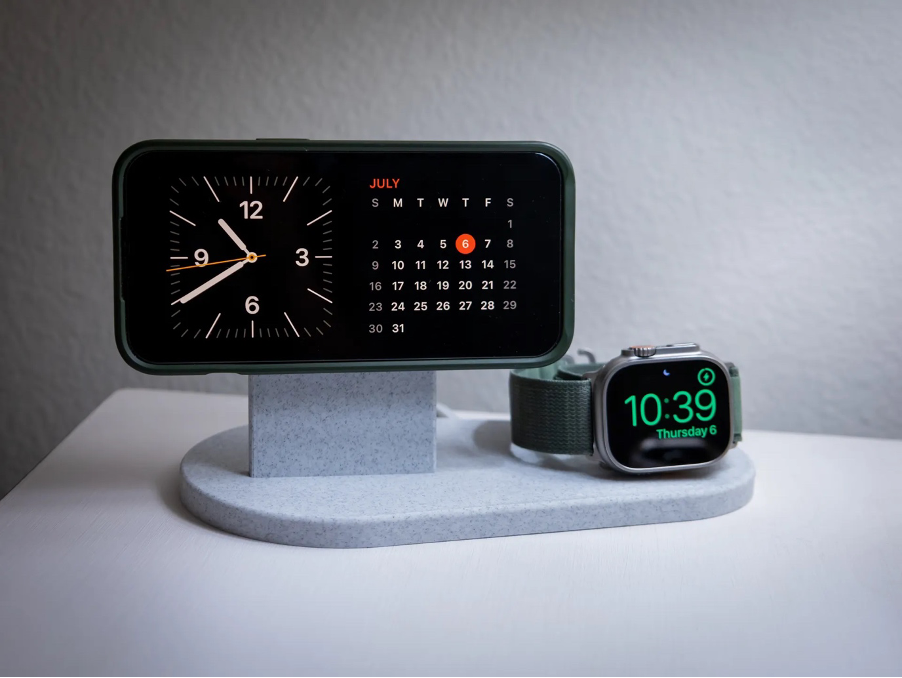 Apple iPhone MagSafe charging station / Source: Printables
Finally, a charging station designed specifically for your Apple devices is a practical yet stylish Christmas gift to 3D print in 2023. This elegant Apple iPhone and Watch charging stand is not only simple to print, but it also extends the life of your MagSafe charger.
But here's the exciting part: you have complete creative freedom to take it to the next level. Experiment with different materials for your print to take the charging stand to the next level. Consider using ceramic-filled or wood-filled filament, or glow-in-the-dark filament. You have a choice, and the possibilities are limitless.
The print process is pretty straightforward. It needs no support, and it's fully modular to accommodate your MagSafe-equipped phone.
Why settle for a plain charging setup when you can have a customized, premium charging station that complements your style?